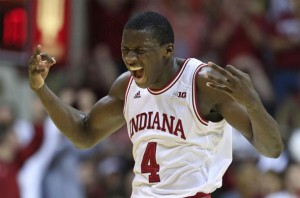 This should come a shock to no one. Indiana junior Victor Oladipo wowed the basketball community all year. The general consensus is that he has an NBA game and not many thought he would hang around in Indiana past this season. Today, that speculation became official, as he is declaring for the NBA draft.
Oladipo had a breakout year in which he led the Hoosiers to 29 wins, their first outright Big Ten regular season title in 20 year and a No. 1 seed in the NCAA Tournament. Indiana's season ended with a loss to Syracuse in the Sweet 16.

The junior guard 13.6 points, 6.3 rebounds, 2.2 steals and 2.1 assists per game. He was named Big Ten defensive player of the year.

DraftExpress.com projects Oladipo as the No. 5 pick in the draft.
H/T: Sporting News