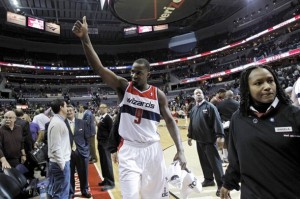 The NBA can be a very unpredictable League, where it's tough to take any team too lightly. We saw that last night as the NBA-worst 4-28 Washington Wizards hosted and defeated the NBA-best 26-7 Oklahoma City Thunder, and I represented The Hoop Doctors at the Verizon Center in D.C. to cover the game.
Now, it's silly for me to defend the team with the worst record in the NBA, but I will say that the Wizards aren't as bad as their record suggests. But I know, "you are what your record says you are." I get it. They rarely get blown out, and lose close games on the final possession or two, as if it's going out of style. I often wonder what their record would be if they had the services of John Wall and Nene for the entire season. But every team has to endure injuries, so it is what it is. However, last night's win aided my point about this team.
When I arrived at the Verizon Center in D.C.'s China town area, I quickly made my way through the media area towards the spot that the Wizards had reserved for me in section 107. Because I arrived shortly before the game's tip, I didn't have time to do much beforehand other than simply get to my seat.
The game itself was entertaining, as the 101-99 final score would suggest. As they tend to do from time to time before imploding, the Wizards got off to a hot start, much to the delight of some of the 16,917 in attendance. I say most because Kevin Durant is from D.C. and a portion of the crowd was cheering pretty loudly for him when he scored any of his 29 points, so I knew where their allegiance rested.
The Wizards led 30-20 after the first quarter, much to my surprise. OKC came out strong in the second quarter to shrink that gap a bit. The highlight of the quarter by far, was when Kevin Durant ended what is remaining of Trevor Ariza's career. KD had Ariza near the top of the key, when he hit him with an impressive crossover, before dunking on the Wizards front line with his left hand. The building erupted.
Up until this point it was a balanced offensive attack for the Wizards, while Durant and Serge Ibaka did the heavy lifting for the Thunder. Russell Westbrook was relatively quiet as the Wiz took a 55-51 lead to the locker room.
The third quarter was more of the same: balanced offensive scoring for the Wizards, who scored 25 that quarter, and a heavy dose of KD and Serge Ibaka for OKC. Serge knocked down multiple mid-range jump shots en route to a 26 point performance on 12-17 shooting. It was still a quiet night for Westbrook. A move that Westbrook resorts to a lot, particularly on the fast-break is a stop-and-pop jump shot from about 18 feet away. He missed many of those, but kept on taking them. The Wizards defended him well in transition as he finished with a quiet 17 points on 4-17 shooting.
But as we came down the stretch in the fourth quarter, the Thunder began chipping away thanks to Durant. He hit a huge three with under a minute left to tie the game at 99 and the building went crazy. He even gave a random court side fan a hi-five as he retreaded back on defense.
The stage was now set for big finish. Wizards coach Randy Wittman put trust into his rookie shooting guard, Brad Beal, as he put the ball in his hands on the final possession. Beal tried driving the lane, but got cut off. So he improvised and threw in a 17-foot one-hand jump shot with 0.3 sends remaining. The building went crazy once again. You could almost feel it shake.
Ballgame.
Following the game, I packed up my belongings and headed to the media area to wait for Wittman's post-game presser and to catch up on some of the BCS National Championship game. It was 21-0 Alabama by that point. When Wittman walked in he said a few words before taking questions. He first talked about his backcourt stating,
"I got good contributions from A.J. Price tonight, who was cleared by doctors to play. I just want to make that clear. He was cleared by doctors."
The room filled with laughter as he was clearly poking fun at the Washington Redskins and their Robert Griffin III debacle from the day before.
After fielding a few questions, I asked coach if he did anything special to hold Westbrook to 4-17 shooting.
"We knew we had to key in on him and that's what we did. We were willing to let Serge Ibaka beat us with jump shots if we had to, and he almost did. He hit a lot of jump shots", said Wittman.
That was the final question and the brief press conference was over. I then walked back to the media room for a quick drink and saw that it was now 28-0 Alabama. I then made by way to OKC's locker room, which was filled with reporters. The one thing that will always be strange is watching a group of reporters waiting for these half-naked young men, who just stepped out of the shower and only have a towel on, to get dressed so that they can swarm them with questions.
Naturally, Durant had the biggest crowd around him, waiting for him to put on his tan suit, which indicated that he was ready to speak. KD was asked if the Thunder took the Wizards too lightly.
"No, we didn't. This is the NBA. Any team can get beat any given night. They are professionals over there and they got the best of us tonight. We play hard every night", said KD.
Time with him was brief. We then made our way over to Russell Westbrook who was also getting dressed. Another weird situation. Once he was fully clothed in a classic Russell Westbrook outfit, he was asked about his 4-17 shooting night.
"They played good defense, but I also missed a lot of shots that I typically make. You have to give them credit though. They played well", said Westbrook, taking nothing away from Washington.
Serge Ibaka, Kevin Martin and Kendrick Perkins didn't speak during the time I was in the locker room, and I didn't see any of the other guys. Perhaps they already made their way out while I was in the Wittman presser. Either way, it was a great night for The Hoop Doctors street team and for the Wizards confidence moving forward.