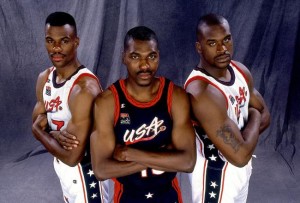 NBA TV's Open Court is a great platform for ridiculously interesting opinions and "did you know…" moments.
Last season, Charles Barkley talked about how his mother would take his sneakers away after every game, "because they had to last the whole season.", said Barkley. We also heard guys like Steve Smith talk about who was the hardest player to defend.
This season is starting off just as well as the last. The most recent sit-down involved a great bit from-who else- Shaquille O'Neal.
Shaq was asked about one of the previous summer's hottest basketball topics: Can 2012's "Dream Team" (winners of a gold medal at the Olympics) beat the original team of 1992? Like every wonderfully intriguing figure in basketball, Shaq damn near side-stepped that question entirely.
Nonetheless, the answer he delivered was noteworthy. Shaq believes that his dream team-otherwise known as "Dream Team 2"- would have beat the original. The team he's referring to was the USA's 1994 representatives in the FIBA World Championship. O'Neal dominated to the tune of 18 ppg and 8.5 rpg, leading the team to an 8-0 finish.
"Who's gonna guard me?", inquired O'Neal, as some of his fellow players on the program asked him to elaborate. "I have 'Zo (Alonzo Mourning) backing me up, and DC (Derrick Coleman) with the perimeter game, Shawn Kemp running the break."
There was some eye-rolling.
"You weren't Shaq from LA, you were [Orlando Magic] Shaq.", added Kenny Smith, "I think guys like David Robinson, Patrick Ewing, they would have tired you out."
Reggie Miller, another member of that 1994 team that won at the FIBA Championships, wasn't as confident as O'Neal, but even he admitted that they could have beaten the 1992 Dream Team.
That FIBA Championship was a study in little-brother syndrome. As a collective, we're talking about a team that completely blew opponents away, behind an average margin of victory at 36.6 ppg. At the same time, they had some minor "attitude problems", if you will.
The 1994 USA squad will always be remembered more for their rambunctious style. The scowling, yelling, and chest thumping overshadow a talented and accomplished squad.
They weren't as accomplished as the Team USA of the Jordan era, but that 8-0 record stands yet as impressive a mark as any.
The team of the '92 was a transcendent group of rock stars whose global recognition surprised even guys like Jordan and Barkley. They put up an average margin of victory of 43.8 ppg. The numbers hardly mattered. '92's Dream Team experienced the surreality of opposing players' adulation-sometimes right in the middle of a game– and guys asking for autographs or photos while getting blown out. In the midst of all of that, there was perfection. Every game was an offensive and defensive clinic.
Most would have a negative reaction to O'Neal's opinion, and understandably so. The great thing here is that the debate keeps springing up. No matter how beaten this dead horse, we strike yet.
I have my own thoughts on this. I don't see Dream team 2 lasting much longer in a game against the '92 squad than the 2012 edition. Basically, the original is noticeably better than both.
There's a great line in a very good piece by SLAM's Russ Bengston:
"Dream Team II? This was the equivalent of a record company naming a promising but not particularly accomplished band "The Beatles II." Right. Good luck with all that."
Mohamed Abdihakim is a journalism student at Florida Atlantic University. He is a Phoenix Suns fan, who is not prepared for the possibility of Nash winning a title in a Lakers jersey. Mohamed is also a contributor at "Les Snobs". Interests include International basketball, Mad Men, and blues music. Nearly all stats are credited to Hoopdata or Basketball-Reference.

Twitter handle: @Abdi_hakim