September 13, 2012 – Kevin Burke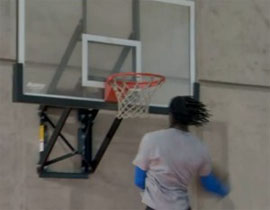 Gatorade and NFL Films have partnered for the second season of "Everything To Prove," the online series that chronicles the journeys of 11 rookie NFL players trying to make a league where everyone must prove themselves each and every game.
The series begins this week with new episodes posting monthly throughout the season.
This year's cast features the top five picks of the 2012 NFL Draft, including Indianapolis Colts QB Andrew Luck, Washington Redskins QB Robert Griffin III, Cleveland Browns RB Trent Richardson, Minnesota Vikings OT Matt Kalil and Jacksonville Jaguars WR Justin Blackmon. The other six athletes are Indianapolis Colts TE Dwayne Allen, Carolina Panthers LB Luke Kuechly, San Diego Chargers LB Melvin Ingram, San Francisco 49ers RB LaMichael James and Houston Texans DE Jared Crick, along with his teammate, K Randy Bullock.
The game of H-O-R-S-E between Robert Griffin III and Trent Richardson took place at API Phoenix when the two players were prepping for the Combine as part of a shoot for the Gatorade and NFL Films "Everything to Prove" online series.
The first episodes of "Everything to Prove" are up and can be found at NFL.com/ETP, but our good friends over at Gatorade sent us this clip of this game of H-O-R-S-E.
Check out RG3?s windmill at the end. Not too shabby at all:
Kevin Burke of The Kevin Burke Project brings provocative, thought provoking content about basketball as only he can. Kevin also hosts The Hoop Doctors weekly podcast show, which you can subscribe to for free on iTunes. Follow Kevin on Twitter and Facebook