April 19, 2012 – Allen Moll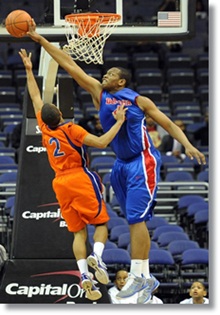 When thinking of the biggest, baddest, and larger than life high school and collegiate players with gigantic wingspans, one usually thinks of Shaquille O'Neal, Alonzo Mourning, Greg Oden, and most recently Anthony Davis.
But one player named Beejay Anya, may have a larger wingspan than them all, as the rising high school junior for the famed DeMatha HS, in the Washington D.C. area, was measured out as having a remarkable 7'9″ wingspan and an incredible 9'3″ reach.
To the average person, those numbers don't mean too much, but when comparing Anya's stats to some of the biggest wingspans of NBA draftees in recent years, Anya's marvelous span blows virtually everyone away. Case in point, former #1 overall pick Greg Oden was measured as having a 7'4.25 inch wingspan coming out of college, coincidentally the same as NBA scoring champion Kevin Durant. 2008 prospect John Riek is on record as having the largest wingspan of 7'8.25 but he went undrafted. Shaq was measured as having a 7'7 span.
While his impressive wingspan is remarkable, his massive 9'3″ reach is actually the best of any player in history to be drafted by the NBA. His freakish length is almost unheard of considering that Anya stands only 6'8″ tall. Most other players even coming close to Beejay's reach measure near 7 feet or better.
Anya, once an out of shape under the radar high school player, has developed nicely into one of the premier players in the 2013 Class. He has dropped roughly 30 lbs from his sophomore campaign (down to 265lbs) and has a rapidly developing low post game. Because he is a below the rim type player, many have compared Anya's game to that of former Kentucky standout DeMarcus Cousins, with a larger reach. His idol is reportedly Shaquille O'Neal, as evident of his brutish style and inverted legs after a 2-handed slam.
Beejay is still developing a go-to move in the paint, but the sky is the limit for his development. He does a good job taking up space in the lane and creating open spots on the floor for shooters on the perimeter when the offense runs through him on the block. For now, his biggest strength is offensive rebounding for put-backs and getting free on dribble-drives by his teammates.
Anya is currently the #15 ranked player and top center in the junior class and is honing his skills for DC's Team Takeover alongside fellow Top 60 recruit SG Stan Robinson(#46). He's as sought after as any big man in the junior class, with a reported 18 scholarship offers from top flight schools like Texas, UCLA, Georgetown, Florida, and Indiana, among others.
Check out Beejay Anya's Amazing Wingspan:
Allen Moll has been a lifelong NBA and NCAA College Basketball fan who watches and studies games religiously, and coaches youth basketball in his native Lehigh Valley region of Pennsylvania.  Allen has also provided content to Bleacherreport.com, Upperdeckblog.com, Cleveland.com, CSN Philly.com, Buckets Magazine, in addition to being a tenured NBA and NCAA columnist for TheHoopDoctors.com.