December 29, 2011 – Allen Moll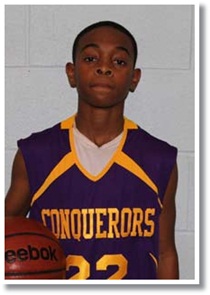 Seemingly on a week by week basis, a new basketball phenom pops up in grade school claiming to be the "next" Michael Jordan or John Wall. While many of these prospects have outstanding skills for their age, in the end, not many of them pan out or make a splash on the HS or collegiate level.
Some of the more talented youngsters we've come across in recent years have been 2nd grade standout Seth Wilson, 6th grade human dribbling machine Jaylin Fleming, and 6 year old baby baller KJ Karfan.
But as it turns out, the best of the bunch may turn out to be 6th grader Damon Harge, who averaged an unreal 35 ppg last season playing against middle school competition in Modesto, California. He decided to relocate across the country this year to North Carolina and immediately got bumped up to playing on the HS level. To everyone's surprise, he currently is blowing up any and all competition in the Tarheel State and has even caught the eye of some NBA stars like John Wall and Kyrie Irving, who were in attendance at one of his games.
Harge has burst onto the national scene over the past year, constantly being showcased on sites like Middle School Elite but it wasn't until he more than held his own at the Scouts Focus Elite 80 Showcase, an annual event where a number of the top Division I HS prospects compete, that bigger media outlets like ESPN, and now TheHoopDoctors.com, took notice.
He more than held his own, averaging 11 ppg at the Scouts Focus, and seems poised for big things going forward. He reportedly wakes up as early as 430 every morning to work on his game and puts up an average of 6,000 jumpers per week. Surely we will keep our eye on this 12 year old phenom in the future.
Check out Damon Harge's Official 2011 Mixtape:
Allen Moll has been a lifelong NBA and NCAA College Basketball fan who watches and studies games religiously, and coaches youth basketball in his native Lehigh Valley region of Pennsylvania.  Allen has also provided content to Bleacherreport.com, Upperdeckblog.com, Cleveland.com, CSN Philly.com, Buckets Magazine, in addition to being a tenured NBA and NCAA columnist for TheHoopDoctors.com.