February 1, 2011 – Allen Moll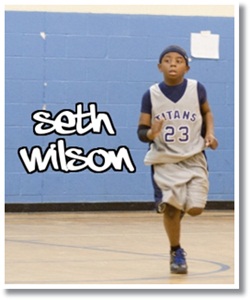 It's become standard procedure nowadays to start teaching the game of basketball to our youngsters as early as possible if they want to get a leg up on the competition and someday be playing for their school team. Seemingly these players, or hoops phenoms as they now are being called, keep getting younger and younger as we have seen some pretty impressive video evidence recently showing us just how good some of our Middle School aged ballers really are.
If you recall, we showed you some amazing footage of Adrian Moore, who is currently an 8th grader in Arkansas that got some notoriety for dunking a basketball as early as the 6th grade and as a result has already gotten interest from some high major Division I programs. In addition, who could forget the incredible ball-handling skills of 6th grader Jaylin Fleming, who ran circles around Reggie Miller on a late night talk show?
Now we are seeing some pretty unique skills beginning to pop up in the elementary ranks like Ohio native Seth Wilson, whom many are touting as the "Best 2nd Grade Baller on the Planet." Although he is only 8 years old, Seth is so advanced that he regularly plays with players 4-5 years older on a 4th grade AAU squad and is already practicing with 6th graders on occasion.
He already stands 4'10 and because of some good family genetics, experts predict he should grow to be about 6'8 tall. Seth's father, who is also his coach, is the shortest member of their entire family and he stands at an amazing 6'4.
Seth has been taking his game to a new level lately as he has played for the Lebron James Tru Game team that was played in Akron and was named as a member of the All Nike Team, consisting of the top 10-12 year old players in the region. He has been talked about in numerous media outlets like most noticably ESPN and on the Two Live Stew's radio show.
As long as he keeps working on his game it appears that Swth may be destined for very good things in the future. Surely the Hoopdoctors.com will be keeping tabs on his progress as he ascends up the ranks of MS and HS basketball. Good luck and keep ballin Seth!
Check out some recent footage of Seth in live game action:
Allen Moll has been a lifelong NBA and NCAA College Basketball fan who watches and studies games religiously, and coaches youth basketball in his native Lehigh Valley region of Pennsylvania.  Allen also provides content to Bleacherreport.com, Upperdeckblog.com, in addition to being a tenured NBA and NCAA columnist for TheHoopDoctors.com.