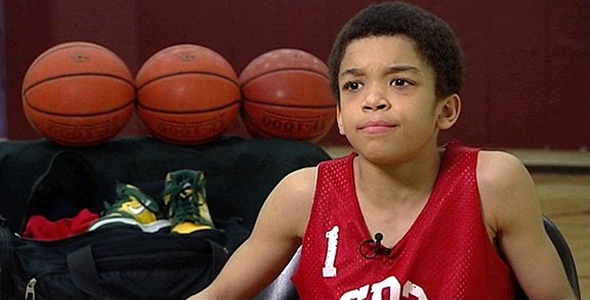 September 29, 2010 – Allen Moll
I think we can officially say that Chicago based, 6th grade hoops prodigy Jaylin Fleming is, to quote hip-hop superstar J. Cole, "About to Blow Up." After we first showed you his now famous mixtape video back in April of this year, Jaylin has moved on to the 6th grade and has gained national exposure after doing countless interviews with ABC, Fox News, and MSNBC just to name a few.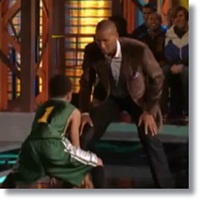 He also has been holding his own against some of the best streetballers in the world like Baby Shaq, Helicopter, and White Chocolate on the 2010 Team Up Tour. He recently had fans jumping out of their seats at an event at a local high school in the Chicago area, upon witnessing his self described "mad handles." Because of his newfound fame, Jaylin has gotten to meet a ton of NBA players like most noticably Chi-town native Derrick Rose, Chris Paul, Dwight Howard, and John Wall.
There's no doubting that noted recruiting genius John Calipari at Kentucky already has him on his radar, especially since there has been some unsubstantiated reports floating around that coach Cal has been seen in person at Jaylin's Summer games. Just kidding, but surely Cal will soon have some encounter with Fleming before he graduates in 2017.
Also this Summer, Jaylin's legend and fame got a boost when he made an appearanace on TBS's George Lopez Show. NBA Hall of Famer Reggie Miller was also on hand for the appearance even though the pint sized basketball dynamo had already previously met the legendary "Knick Killer."
After asking Jaylin to put on an exhibition, showing off his tremendous talents dribbling the basketball, the former comedian turned late night talk show host just couldn't resist orchestrating a friendly game of one-on-one between Miller and Fleming in front of the live audience.
Watch as Jaylin makes Reggie look like a statue as he repeatedly goes right around the Hall of Famer and knocked down a long range jumper to win a year's supply of DiGiornio Pizza:
Allen Moll has been a lifelong NBA and NCAA College Basketball fan who watches and studies games religiously, and coaches youth basketball in his native Lehigh Valley region of Pennsylvania.  Allen also provides content to Bleacherreport.com, Upperdeckblog.com, in addition to being a tenured NBA and NCAA columnist for TheHoopDoctors.com.