August 15, 2011 – Kevin Burke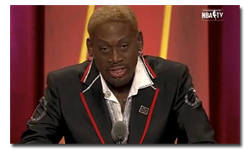 In advance of Friday night's Hall of Fame induction ceremony, we told you that Dennis Rodman planned on arriving in Springfield, Massachusetts by way of helicopter, and that he had a brand new pair of exclusive HOF kicks. Even though other notables, such as Artis Gilmore and Chris Mullin were being enshrined as well, most of the focus was on Rodman.
When it was time for his speech, I didn't know what to expect. Rodman is probably one of the most unique individuals to ever play professional sports, so the anticipation alone was enough to tune in. But I certainly didn't expect what I saw Friday night. I don't believe we have ever seen him open up the way he did during his speech. It was a complete 180 from the antagonistic player that he was. But, it was very refreshing to see him in that light.
If you're looking for your everyday, predictable basketball talk, then go somewhere else, because Kevin Burke of The Kevin Burke Project brings provocative, thought provoking content about basketball as only he can. Kevin also hosts The Hoop Doctors weekly podcast show, which you can subscribe to for free on iTunes. Follow Kevin on Twitter and Facebook