August 8, 2011 – Ben Berry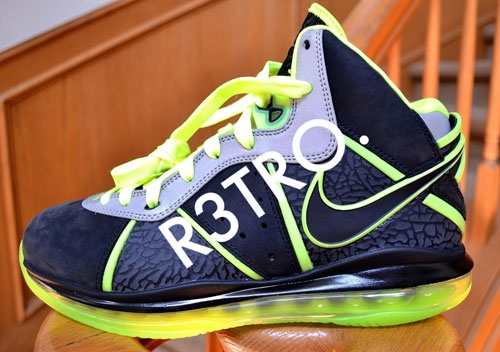 With the NBA season still a mystery it is no wonder that many new shoe models haven't seen much light of day. Last season staples like the Zoom Kobe VI and Crazy Light are still being released in new colorways without any end in sight. Images recently surfaced online showing the LeBron VIII V1 as a part of DJ Clark Kent's 112 pack.
A LeBron James sneaker is no stranger to the 112 treatment as last years' LeBron VII was the first in the series to be given the '112' label. The use of the green might have this pair confused with the sought-after Dunkman colorways but I promise you this shoe is a entirely different beast. All the elements of a 112-branded sneaker are included on this shoe from the mostly black base to the use of cement print. No word yet on if the grey is constructed from 3M but it wouldn't surprise me as other 112 shoes have featured the reflective material.