July 26, 2011 – Kevin Burke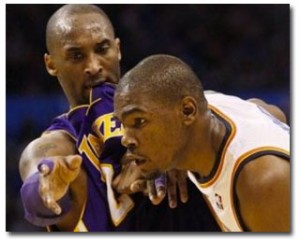 Thus far, this summer has proven to be one of the most active off-seasons, in terms of established NBA players playing competitive ball, that I can remember in a long time. We told you last week that the Goodman and Drew Leagues will battle next month in DC with some key names involved, and over the weekend, NBA stars participated in "Ultimate All-Star Weekend" in the Philippines and put on a show for the home crowd.
This flew under the radar for the most part and was actually streamed on-line in the wee hours of the morning in the U.S. due to the time difference. But, when I say NBA stars participated, I mean that. Kobe Bryant, Derrick Rose, Kevin Durant and Chris Paul were just four of the NBA players that took on the Philippine's Basketball Association's select team on Saturday and Smart Gilas Philipinas on Sunday. The games were held in the same arena where Muhammad Ali fought Joe Frazier in 1975 in the "Thrilla in Manila" and in attendance was native son, Manny Pacquiao. The NBA representatives swept the mini 2-game series and here are some highlights:
Durant off the glass to Harden
Kobe alley-oop to Rose
And in attempt to restore order in the world, I won't include the video of JaVale McGee planking on the court during the game.
If you're looking for your everyday, predictable basketball talk, then you've come to the wrong place, because Kevin Burke of The Kevin Burke Project brings provocative, thought provoking content about basketball as only he can. Kevin also hosts The Hoop Doctors weekly podcast show, which you can subscribe to for free on iTunes. Follow Kevin on Twitter and Facebook