July 8, 2011 – Allen Moll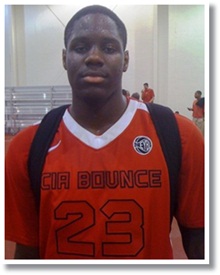 Fresh off the ink drying on his brand spanking new contract, that will pay him upwards of $36.5 million over the next 8 seasons, University of Kentucky head coach John Calipari has his hands full during the July live recruiting period for HS basketball.
After being known as the college ranks' best recruiter for landing the NCAA's #1 rated recruiting class three years running, Coach Cal has yet to secure a commitment for 2012.
For the upcoming '11-'12 season, Calipari has secured arguably the best incoming class in history highlighted by 4 players all ranked within the Top 20 players in the country, including the top rated PF (Davis), SF (Gilchrist), PG (Teague), and a sweet shooting 6'9 big man (Wiltjer).
Surely Big Blue Nation is getting a little anxious as Calipari usually has at least one commitment by this time each season, but not to worry as he is reportedly hot on the trail of top 2012 talents like DeJuan Coleman, Shabazz Muhammad, and Perry Ellis. With former NC State floor general Ryan Harrow transferring to UK for the '12-'13 season, I doubt that PG will be a top priority on the recruiting front.
In a bit of a surprise, one of Cal's first targets to officially offer a scholarship turns out to be Findlay Prep's rising big man Anthony Bennett. The 6'8 and 230lb PF is athletic as they come and is next in line as yet another promising hoops prospect from Canada. He played somewhat in the shadows on the same HS squad asTexas recruit Myck Kabongo, Arizona bound Nick Johnson and St John's commit Amir Garrett last season but figures to star for the Las Vegas based prep school during his upcoming senior season.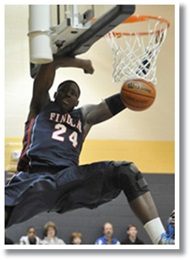 Bennett will be a classic back-to-the-basket 4 man on the collegiate level, that is gaining valuable experience on Canada's U-17 squad, and can step out to shoot the three on occasion. He's as physical as any forward prospect in the class as he uses his already chiseled frame to create space and explode to the basket. He projects as a high level rebounder and will be an instant match-up problem because of his soft touch from behind the arc.
Anthony reportedly is a top target of UConn, Ohio St, Pitt, UNC, Oklahoma, West Virginia, Iowa St, and Marquette, in addition to Kentucky. One thing we know is that no matter which schools are targeting a player, Cal usually gets his man.
One thing opposing players should already know about when playing against Bennett and that Wildcats fans should be excited about is that he seemingly dunks everything, like when he threw down upwards of 4 windmill jams at the most recent Pangos Camp. Whenever within proximity of the rim, he tries to not only finish off a play with authority but to attempts to annhilate and demoralize the opposition by serving up facials and poster dunks on those that stand in his way.
Check out this facial served up on a defender last season:
Allen Moll has been a lifelong NBA and NCAA College Basketball fan who watches and studies games religiously, and coaches youth basketball in his native Lehigh Valley region of Pennsylvania.  Allen also provides content to Bleacherreport.com, Upperdeckblog.com, in addition to being a tenured NBA and NCAA columnist for TheHoopDoctors.com.