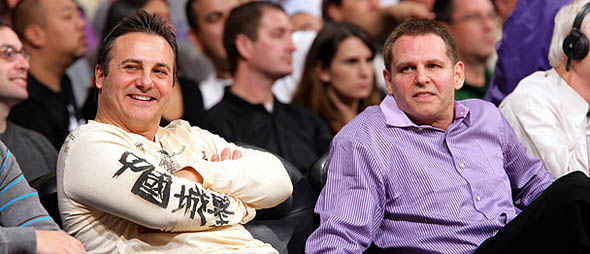 June 27, 2011 – Dane Carbaugh
As draft night in the NBA approached trade rumors flew about as a result of player agents, front office smokescreens and overzealous fanaticism. At one point in time, it was being reported that Steve Nash was going to be shipped to Minnesota for the No.2 pick, a hilarious notion but one that every teenaged kid in Minnetonka was dying to happen. Alas, the speculation that major players like Nash, Ron Artest, Lamar Odom and even members of the Boston Celtics being moved were all for not.
The trade that shocked the basketball world was one that happened before the draft even began. According to ESPN's Chad Ford, the details of the 3-team deal are as follows:
"The Bucks will get Jackson and Charlotte's Shaun Livingston, Sacramento's Beno Udrih and the rights to 19th pick Tobias Harris from the Bobcats, while Charlotte obtains the rights to the seventh pick, Bismack Biyombo, and forward Corey Maggette from Milwaukee.

The Kings will get guard John Salmonsfrom Milwaukee and the rights to BYU guard Jimmer Fredette, who was selected 10th by the Bucks. Charlotte held onto the No. 9 pick, which it used to select UConn guard Kemba Walker."
The deal was a confusing one, to be sure. Milwaukee seemingly dropped two massive, new-CBA killing contracts in Salmons and Maggette by trading for Jackson, who is a proven scorer and has found himself in a leadership role under Larry Brown the past few seasons. Charlotte is obviously looking to start over and the main prize for them was Kemba Walker and Biyombo. Sacramento's move, however, remains the most puzzling.
In an odd move, the Kings added Salmons who had previously played for the Kings from 2006-2009 and joins the ranks of Freddy Garcia, Omri Cassipi, Donte Green and draftee Jimmer Fredette on the wing. Salmons moves to central California as the highest paid player on the roster at $8M a year in 2012. With Fredette on-board, the logjam at guard gets even thicker and questions will ultimately arise about who will take the reigns at point.
Beno Udrih started for the Kings last year as Tyreke Evans saw most of his time playing the SG spot. Fredette has his own identity issues and fits much in the predicament that Evans does as an undersized scoring guard. Although it was generally taken that the Jazz would draft Jimmer at 12, nobody expected him to go as high as 10 to the Bucks/Kings.
Joe and Gavin Maloof are the owners of the Sacramento Kings and have had a rather public outcry against their recent push to move the franchise. Originally suggesting Anaheim, California as a destination, the Maloofs found outrage from Sacramento Mayor and former NBA player Kevin Johnson. Although Johnson was able to put together a plan where fans have purchased more season tickets for the upcoming season, the Maloofs are in serious financial trouble and Sacramento is a losing franchise. Their desire to move it is not based, as was the case in Seattle, to a preferred location because of vanity. Instead, they were able to convince Anaheim to build them a new stadium as part of the relocation as a way to attract new fans.
Whether the Kings actually relocate in the next two years will be up to the NBA owners to decide. One way the Maloofs can further convince their constituents that they cannot survive financially is to have record-low returns in concessions, merchandise and ticketing. One way to do that? Field an awful team. It sure seems like the Maloofs are trying hard to do that.
I'm not pointing any fingers yet — the new look Kings have yet to even play a game together. Still, something just doesn't smell right in Sacramento. Trading for Salmons and drafting Jimmer to fill the same need makes no sense, and unless we see the Kings move some of the pieces in their crowded backcourt the stench is only going to get worse. To me, the most telling thing of all was an e-mail I received on draft night. I tweeted about the Maloof conspiracy twice that night, saying:
@hardcourthoops: Sacramento gets $31M of Salmons, moves down in the draft and is expected to take Jimmer? Where are my Maloof conspiracy theorists?
And later:
@hardcourthoops: Sacramento stacking up the shooing PG who are not actually PGs. Total conspiracy. KJ just had a hemorrhage
Then I got this e-mail late that night:
MaloofMoneyCup (@maloofmoneycup) is now following you on Twitter!
Uh-oh. Who wants to hide me?