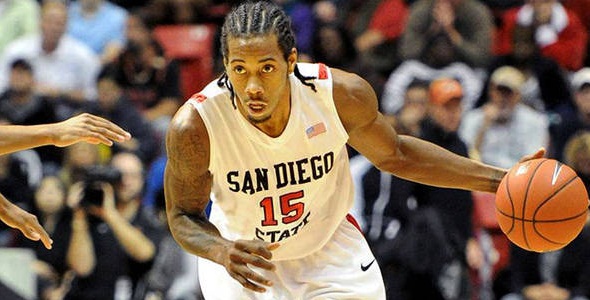 June 2, 2011 – Allen Moll
With the 2011 NBA Draft quickly approaching, most of aspiring draftee hopefuls were in Chicago for the annual Draft Combine. Surely most prospects felt like cattle being led to the slaughter, being constantly poked, prodded, and asked seemingly millions of questions about their work ethic.
They have been thoroughly tested on height, weight, athletic ability, reach, and vertical leap. While stats and measurements don't tell the whole story as to just how good an NBA player will be, NBA GM's do take stock in how prospects fare during the combine.
Combine results can be the difference between earning major money as a Top 10 Lottery selection, getting guaranteed money as a 1st Round Player, or not getting taken altogether. While most argue whether or not projected #1 pick Kyrie Irving made the right decision to skip the Combine, a few other players have definitely made a good impression and as a result will see their stocks rise in the most recent Mock Drafts leading up to the actual 2011 NBA Draft on June 23rd.
Here are 9 Players whose stocks are on the rise heading into the 2011 NBA Draft: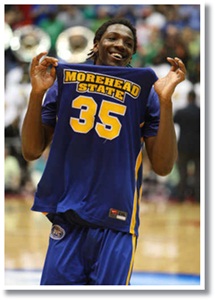 Kenneth Faried, Morehead State, PF – By now, it's been well documented that Faried broke Tim Duncan's NCAA rebounding record. But his story gets much more interesting than that upon learning of his rags to riches story as an unheralded prospect from Newark, NJ to the rebounding, defensive demon at Morehead State that has everyone comparing him to Dennis Rodman. To make a long story short, Kenneth is a class act and will wow GM's during interviews.  What he lacks in overwhelming height(6'8), he more than makes up with a 7'0 wingspan, an unbelievable motor, and a 9'0 standing reach, which measures higher than most center prospects like the 6'10 JuJuan Johnson and Michael Dunegan. The Combine has helped Faried's stock soar and as a result should be a Top 20 pick.
Kawhi Leonard, San Diego State, SF – Those who finally got a chance to see Leonard in action during a deep NCAA Tournament run this past March realized that he was destined to be an NBA player. At 6'7, he played any position from 1 through 4, but projects as a multi-talented SF at the next level. At season's end, most experts agreed that despite averaging a double-double, their were concerns about his overall lack of height and was a perceived fringe 1st Round selection. But after faring extremely well at the Combine, possessing a colossal 7'3 wingspan, some of the largest hands in attendance, and an above average athleticism, some are already comparing Kawhi to NBA Hall of Famer Scottie Pippen and should be a Top 10 lock.
Jimmer Fredette, BYU, PG – Immediately after the season, Jimmer's stock began to sink after a perceived lack of athleticim, with many mock drafts having the National Player of the Year slipping towards the end of the 1st Round. Measuring out with a bit smaller than expected at 6'0 without shoes and having the smallest hands out of any prospect surely didn't help the cause. But Jimmer redeemed himself in the skills and agility portions of the Combine by out-shooting everyone, making 19 threes(Tied for 1st), and showing the most range in shooting drills. His 10.42 time in agility drills was third fastest in the Combine as he also posted a beastly 14 reps in bench press, showed nice speed, although his jumping numbers were slightly below average. Jimmer has solidified his position as a top prospect and is once again getting some Lottery buzz.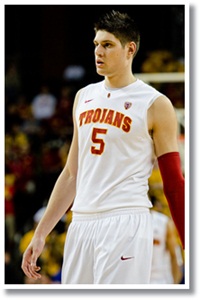 Nikola Vucevic, USC, PF – While not many fans on the East Coast have seen him in action during the season, the promising big man has an impressive inside out game and a surprising mobility that bodes well in the pick-and-roll heavy NBA. After measuring out a legit 6'11 and 3/4 in shoes, with a 7'4 wingspan, and the tallest standing reach(9'4) out of his group, Vucevic seems poised to burst into the late 1st Round after not getting much love immediately after the season. NBA GM's are enamored with great shooting big men and Vucevic is actually more of a safe pick than some of the other European bigs who didn't have the exposure of playing against top competition in college. After possibly not being selected entirely, Vucevic is now looked at as a late 1st Round selection.
Enes Kantner, Kentucky, C – Enes has impressed scouts just by simply being at the combine. With little upside to attending, Enes has actually increased his stock by out-measuring and out-performing almost everyone in his group. He measured at an impressive 6'11 and 260 pounds, with an incredibly solid 5.9% body fat, numbers that indicate he has adequate size to play Center at the next level. He has showed better than expected athleticism and actually tested out better that last year's top bigs DeMarcus Cousins and Greg Monroe in agility and strength tests. He posted an ideal 14 reps on the bench and his 11.3 lane agility score shows he has above average mobility to defend the post. Enes is a Top 5 lock and is even getting some consideration at pick #2 if Derrick Williams somehow gets taken at #1.
Tobias Harris, Tennessee, SF – The former 5 star HS prospect and McDonald's All American flew a bit under the radar with all the turmoil surrounding the now dismissed Bruce Pearl at Tennessee this season. His numbers suggest that he ranks among the best freshmen in college basketball last season but hardly got the buzz of a Kyrie Irving, Brandon Knight, or Terrence Jones. Harris is helping make a name for himself this off-season by putting in an impressive showing at the Combine. He measured a legit 6'8 and a well put together 228lbs which are borderline PF numbers, but has the agility and mobility to be a star as a SF in the NBA. Most scouts agree that he is the most mature 18 year old prospect they have ever seen and works harder than most prospects. He finished among the top in his group in the bench press but still needs work on his long range shooting. The key will be how well he can defend smaller 3's at the next level. Tobias has earned a 1st Round selection.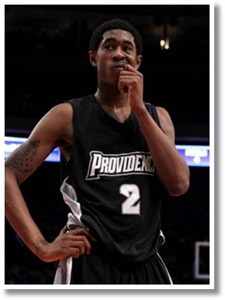 Marshon Brooks, Providence, SG – It's surprising that the nation's 2nd best scorer, behind Jimmer Fredette of course, and after playing in arguably the nation's best conference(Big East) that more fans don't know about Brooks. He measured out with an impressive 7'1 wingspan, and despite concerns over his thin frame, weighed in heavier than Alec Burks, the #1 rated SG, who has a height advantage. He had an impressive 39 inch vertical, ranked 1st in standing vertical(34 in) and was among the best in lane agility and 3/4 court sprint drills. One concern is strength as he only could bench 185lbs five times but NBA weight rooms may be the cure for his thin frame. Many see him as a potential sleeper of the draft in the mold of Atlanta's Jamal Crawford. Brooks can flat out score and is beginning to get some mid-1st Round buzz.
Josh Selby, Kansas, PG – Despite having an up-and-down freshman campaign marred by ineligibility, offensive inconsistencies, and an unwillingness to adhere to coach Bill Self's offensive scheme, Selby has wowed those in attendance at the combine, showing everyone why he was the #1 ranked HS player in the '10 Class. His physical measurements(6'2) quelled any doubts about his perceived lack of height and ranked #1 in vertical leap with an impressive 42 inches, best among all players. It no secret that the Knicks, sitting at #17, would love to select Selby as the heir apparent to Billups at the point in a few seasons.
Jeremy Tyler, Tokyo Apache, PF/C – Although his skipping some time in HS to play overseas experiment has to be considered a disaster, he did get some valuable time against legit pro players in Europe and Japan. The former #1 rated HS player is still a project at this point but measuring out at nearly 7 feet, and possessing an amazing 7'5 wingspan, tops among all players, all in a surprisingly mobile body is a rare combination that some GM's will clamor for. Despite having only a decent 33 inch vertical, he ranked among the Top 3 in maximum jump(12'0) and benched 185lbs an above average 10 times. To this point he's primarily a low block player but shows promise on an improving midrange jumper and could develop into a dominating PF/C for years to come. According to most mocks, Tyler is a legit late 1st Round pick, considering his immense size and potential, and that he is still just 19 years of age.
Allen Moll has been a lifelong NBA and NCAA College Basketball fan who watches and studies games religiously, and coaches youth basketball in his native Lehigh Valley region of Pennsylvania.  Allen also provides content to Bleacherreport.com, Upperdeckblog.com, in addition to being a tenured NBA and NCAA columnist for TheHoopDoctors.com.