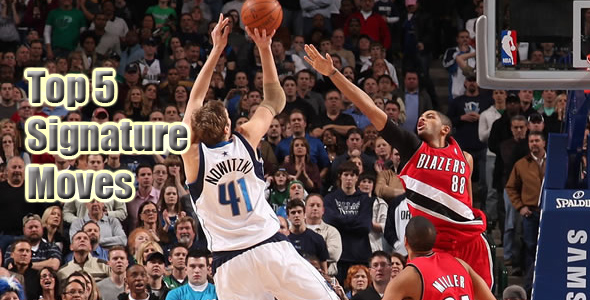 May 17, 2011 – Kevin Burke
Coaches, teams and players game plan so that they can uncover and expose tendencies of the opposition in order to gain a competitive advantage. Usually when you do your due diligence, you're in good enough position to either take a guy out of his game, or at least alter what he likes to do. But then there are some players where it doesn't matter what you do beforehand. They could tell you their next move and you'd still have absolutely no chance of stopping them. That's because they typically have a favorite move that they routinely revert to that is so successful for them and has become virtually unstoppable. Of course, not everyobody has one. So, here are my top 5 signature go-to moves in the NBA today and the players they belong to:
#5 – Kobe Bryant | Turnaround Fadeaway Jumpshot
I find it amazing that people are beginning to write Kobe Bryant off. Granted, he's 32, just finished his 15th season in the League and has alot of NBA miles on his body. But he's still one of the three best players in Association as far as I can see. He hasn't fallen off nearly as far as many have made it seem. But has some of his game fallen victim to Father Time? Sure. The good ol' father is still undefeated. To accommodate this, Kobe implemented a turnaround fadeaway J a few years ago. Did he pattern it after Mike? Perhaps. But is it equally as effective? Most definitely.
#4 – Dwyane Wade | Eurostep
For the record, I hate the Eurostep. I absolutely despise it. My feelings about the Eurostep are the same as my feelings about a defender putting his hand in a jumpshooters face so that he can't see the rim. It just doesn't seem right. But it's plenty effective. Can you image backpedalling on a fastbreak and having Wade running at you full speed and not knowing which way he's going to go even after he picked up his dribble? Many people are still new to Wade's Eurostep and don't even know what it is. I've heard many announcers call it a crossover because they are seemingly unfamiliar with it.
#3 – Carmelo Anthony | Jab-step
Without every watching him play, ostensibly you probably wouldn't think 'Melo is a fundamentally sound as he is. That has more to do with the era in which we're in than it has to do with anything else. But he's probably the most fundamental perimeter player in the NBA. It's not even close. Those tools are why he's also the more versatile scorer in the game as well. He loves catching the ball on the right elbow with his back to the basket. Then he turns and faces his lowly defender and gives a series of jab-steps to his right. Because he can put the ball on the floor, you must honor his jab. However, he has one of the best medium-range Js in the business, so you can't give him too much room. It's a lose-lose situation. He typically pulls up and knocks down the shot following a series of jab-steps without ever putting the ball on the floor.
#2 – Dirk Nowitzki | One-leg Fadeaway Jumpshot
Dirk is the most uniquely gifted player that the NBA has ever seen. There isn't a single guy who has even worn an NBA jersey that would be an even matchup for Dirk. You don't exactly see a perimeter oriented 7-footer come along every handful of years. No one else resembles him on the court. So when he reverts to that awkward looking fadeaway that he sometimes shoots off one leg (which he practices), what are you going to do about that? Perimeter defenders are too short to contest that and typical big men don't play that far away from the basket.
#1 – Derrick Rose | First-step
It has to be a very lonely feeling at the top of the key against the league's MVP 1-on-1 with no help. I feel for anyone who ever has to endure that unfortunate situation. Rose is a very special player and I see a little bit of LeBron James, a little bit of Stephon Marbury and a little bit of Allen Iverson in his game. There isn't a human alive that could stay in front of Rose. A first-step isn't even really move because you're relying on your quickness, but it's probably the best weapon in the League because he gets to the rim at will. You never see him get cut off when he's trying to get by a defender in the halfcout. Never.
If you're looking for your everyday, predictable basketball talk, then go somewhere else, because Kevin Burke of The Kevin Burke Project brings provocative, thought provoking content about basketball as only he can. Kevin also hosts The Hoop Doctors weekly podcast show, which you can subscribe to for free on iTunes. Follow Kevin on Twitter and Facebook