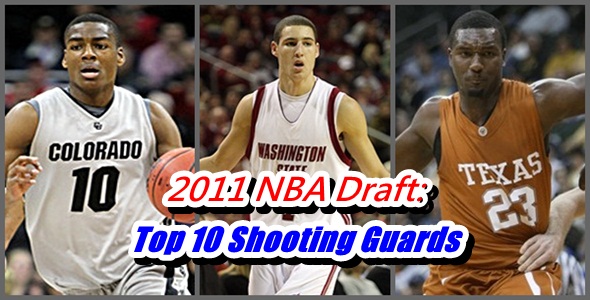 May 19, 2011 – Allen Moll
With a number of top tier players like Jared Sullinger, Perry Jones, and Harrison Barnes pledging to return to school for their sophomore seasons, the 2011 NBA Draft has decidedly gotten weaker. This year's field may be one of the least potent in recent memory, going back to the rather forgettable 2000 Draft which featured Kenyon Martin, Stromile Swift, and Darius Miles as the Top 3 selections.
While the latter parts of the 1st Round and into the 2nd Round may not feature a plethora of game-changing players, it doesn't mean that there aren't some potential All Star caliber ballers at the top. Starting with the Point Guard position, this is the second of a five part series evaluating the Top 10 players at each position. First up was PG, now lets examine the shooting guard position.
Top 10 SG Prospects
1) Alec Burks, Colorado
20.5 ppg, 6.5 reb, 2.9 ast, 1.1 stl, .469 FG%, .292 3PT%, .825 FT%
Projection: Late Lottery to Mid 1st Round
Possessing excellent size to play the 2 guard at the next level, the average fan probably hasn't heard much of Burks until he helped lead the Buffaloes to a deep run in the Big 12 Tourney and an NIT Title. He has shown the ability to score and hit big shots, immediately drawing comparisons to former Colorado alum Chauncey Billups. Alec, an athletic wing with long arms who is an aggressive player off the dribble, actually prefers to get to the rim, while others are more comfortable settling for the jumper. He's more than just an elite scorer as he rebounds well(6.5 reb) from the 2 guard position, has above average handles, and is an outstanding passer. He still needs to improve his 3 point shooting and add weight to a thin frame but has outstanding size and skill-set to be one of the sleepers in the draft.
Projection: Late Lottery to Top 15 Pick
Comparison: Eddie Jones/ Chauncey Billups
2) Jordan Hamilton, Texas
18.6 ppg, 7.7 reb, 2.1 ast, 1 stl, .440 FG%, .385 3PT%, .779 FT%
Projection: Mid 1st Round
While there have been some questions early on concerning attitude and coach-ability, Jordan's talent is undeniable. After an up-and-down freshman season last year, Jordan became the go-to-guy for coach Barnes in '10-'11. He is one of the Big 12's best scorers, averaging a team best 18ppg, to go along with nearly 8 rebounds, and 2 assists per game. He's had 16 games of 20 or more points and could help a team offensively from day 1 at the next level. He has excellent size(6'7) for the 2 guard position but could also play SF in smaller line-up. He is one of the premier shooters and scorers in the '11 Draft class, and is an absolute threat to knock down shots anywhere on the floor. Jordan arguably has Top 10 talent but at times suffers from bad shot selection and tends to shoot too many threes. Nonetheless, his size and offensive prowess are tailor made for the NBA game.
Comparison: Ricky Davis/ Mitch Richmond
3) Klay Thompson, Washington State
21.6 ppg, 5.2 reb, 3.7 ast, 1.6 stl, 1 blk, .436 FG%, .398 3PT%, .838 FT%
Projection: Mid to Late 1st Round
After earning the "soft" label almost exclusively as a great perimeter shooter in his first 2 years in college, Klay has developed nicely into one of the nation's best scorers as evidence of his gaudy 22 ppg average. His touch and body control are outstanding using the dribble-drive to get to the basket and has become far more than just a 3 point shooter. NBA GM's are may look to transform him into a high scoring SF or bigger SG at the next level but still could stand to add weight. Defense will always be an area of concern because of only average athleticism but he has made great strides in his all around game to be considered a 1st round selection. A late season arrest for possession of a controlled substance may see him slide a bit.
Comparison: Kevin Martin
4) Nolan Smith, Duke
20.6 ppg, 5.1 ast, 4.5 reb, 1.2 stl, .458 FG%, .350 3PT%, .813 FT%
Projection: Late 1st to Early 2nd Round
Nolan has proven over his 4 years at Duke that he is the ultimate competitor, providing Coach K whatever is needed to help his team win. In Kyrie Irving's absence, Smith took his game to another level, showcasing above average PG skills and a high basketball IQ to lead the ACC in scoring and finish 2nd in assists last season. Despite being slightly undersized, Smith regularly got the best of opponents in college behind some spectacular handles and quick strike dribble moves as he changes pace and direction with a great hesitation move. Defensively, he may have problems guarding bigger 2?s in the NBA and lacks explosiveness but his determination and toughness balance him as a player. Winning on the biggest stage for the most respected coach in college basketball can only help his draft stock.
Comparison: Kirk Hinrich
5) Shelvin Mack, Butler
16 ppg, 4.5 reb, 3.4 ast, .408 FG%, .354 3PT%, .769 FT%
Projection: Late 1st to Early 2nd Round
As the big shot taker on the nation's runner up squad two years running, Mack has finally become a household name because of all the exposure that comes with deep Tourney runs. His shooting range and physical strength are two attributes that translate nicely for NBA play. Shelvin compares favorably to that of Ben Gordon as an instant offense type of shooter/scorer at the lead guard position. Has good handles and plays excellent defense and is one of those long range shooters that has range anywhere inside the gym. Has the physique of an NBA linebacker with huge shoulders and a barrel chest and uses his excellent body strength to his advantage. Some question what exact position he projects as at the next level as he has excellent size for PG yet doesn't possess the necessary ball-handling skills to be a starter.
Comparison: Ben Gordon
6) Marshon Brooks, Providence
24.6 ppg, 7 reb, 2.5 ast, 1.5 stl, 1.2 blk, .483 FG%, .340 3PT%, .772 FT%
Projection: Late 1st to Early 2nd Round
Despite playing on a bad team in the nation's best conference(Big East), the wiry thin Brooks has quietly become one of the country's most prolific scorers. He and Jimmer Fredette are the only players to top the 50 point mark in a game this season and finished 2nd in the nation behind the BYU star with a gaudy 24.6 ppg average. He scored 20 or more in an NCAA best 26 games this season and had contests of 52, 43, and twice notched 33 point efforts during the regular season. Brooks is one of the more intruiging players in the draft as he can score from anywhere on the floor, has impressive handles, and has the physical tools to play against bigger defenders because of his outstanding length. Brooks is truly one of the premier players in the nation because of his play on offense, and his undervalued defensive play but gets seemingly little respect or attention around the nation. Concerns over rail thin frame, at times questionable shot selection, and average athleticism.
Comparison: Jamal Crawford
7) Travis Leslie, Georgia
14.4 ppg, 7.2 reb, 2.9 ast, 1.7, 1.2 stl, .492 FG%, .302 3PT%, .801 FT%
Projection: Late 1st Round the Early 2nd Round
While mostly known nationally for serving up a facial on DeMarcus Cousins last season, Leslie is a freakish athlete, who ranks amongst the top physical specimens in the '11 draft class. With rare athleticism, length and strength at 6'4, Leslie played an undersized SF at times. While at this point he relies too much on his physical attributes, he is a tremendous backcourt rebounder, as evidence of pulling down 7 boards per night this season. He has a still developing jumper, extremely high motor, and excellent on-ball defense, to go with explosive leaping ability. Able to guard multiple positions using his combination of strength and agility. Still needs to work on ball-handling and creating his own shot but GM's absolutely love his potential. Future NBA Dunk Contest contestant. Must improve long range shot and catch and shoot ability to get regular minutes as 2 guard at next level.
Comparison: Tony Allen
8) LaceDarius Dunn, Baylor
19.5 ppg, 3.5 reb, 2.1 ast, 1.4 stl, .398 FG%, .357 3PT%, .826 FT%
Projection: Late 2nd Round
While his stock has dropped over his senior season, Dunn remains one of the most NBA ready long range shooters. He filled it up with regularity at Baylor, setting the Big 12 mark for 3 pt shots made and career points. He is the definition of a streaky, outstanding pure scorer, capable of taking over a game when hot. He has an excellent build and is capable of creating his own shot and getting separation from defenders behind a terrific first step. He does a pretty good job of playing passing lanes and picking up steals, especially during the latter half of his career. Concerns at the next level include lack or overall size at SG, only average passing abilities, and some disciplinary issues that caused him to miss a major portion of his senior season. Probably best suited as a 6th man, instant offense type of player.
Comparison: OJ Mayo/ Lou Williams
9) Charles Jenkins, Hofstra
22.6 ppg, 4.8 ast, 3.4 reb, 1.7 stl, .517 FG%, .420 3PT%, .824 FT%
Projection: Mid 2nd Round
As one of the best kept secrets in college basketball, Jenkins was essentially a one man team at tiny Hofstra but has the skills to be an above average NBA player. He is a tenacious combo guard with tremendous athleticism, good shooting technique, and can score from anywhere on the floor. He has an excellent 3 point stroke, ball-handling, and is efficient at getting to the foul line. His main obstacle going forward is his lack of size but he more than makes up for it with his quickness and innate scoring abilities. Stands a good chance of making an NBA roster as a reserve.
Comparison: Willie Green
10) E'Twaun Moore, Purdue
18 ppg, 5.1 reb, 3.2 ast, 1.2 stl, .447 FG%, .400 3PT%, .709 FT%
Projection: Late 2nd Round
As a 4 year starter at Purdue, E'Twaun sometimes took a backseat to other star players like Robbie Hummel and JuJuan Johnson but is quite the skilled 2 guard in his own right. Although slightly undersized for SG, he is an excellent 3 point shooter with legitimate NBA range who can appear unstoppable when hot. He has solid athleticism and is great off the dribble, possessing an excellent crossover, and has averaged 3+ assists for his college career. On the down side, he may have difficulty guarding bigger 2's and tends to favor the 3 point shot over driving and getting to the charity stripe. He also will need to add muscle to compete for minutes at the next level.
Comparison: Jodie Meeks
Other Notables:
David Lighty, Ohio State, 6'5, 220lbs, Senior – Excellent perimeter defender that thrives on hustle and fundamentals but is average offensively. Solid length, athleticism, and toughness that shoots high percentage from behind the arc. Ultimate competitor who continually thrived on the highest level.
Ben Hansborough, Notre Dame, 6'3, 205lbs, Senior – Tyler's younger brother is an elite 3 point shooter that thrives on energy and hustle but lacks athleticism and outstanding size. Above average passer and decent defender that excelled when the game is on the line. Lack of size and athleticism limits him at the next level.
Scotty Hopson, Tennessee, 6'7, 200lbs, Junior – Despite having an NBA skill-set and an improved junior campaign, Scotty suffers from poor shot selection and barely plays a lick of defense. He is a pure scorer but disappears during games and lacks court vision. Would have benefitted from another year in college.
Ravern Johnson, Mississippi State, 6'7, 205lbs, Senior – One of the best pure shooters in class. Average passer and defender but thin frame limits him as player. Has chance to make roster as an elite 3 point shooter. Stock is on rise after great showing at Portsmouth Invitational.
Allen Moll has been a lifelong NBA and NCAA College Basketball fan who watches and studies games religiously, and coaches youth basketball in his native Lehigh Valley region of Pennsylvania.  Allen also provides content to Bleacherreport.com, Upperdeckblog.com, in addition to being a tenured NBA and NCAA columnist for TheHoopDoctors.com.