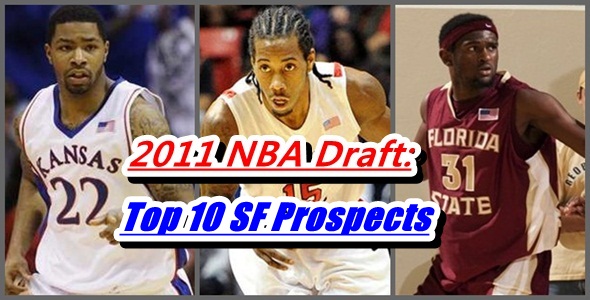 May 25, 2011 – Allen Moll
With a number of top tier players like Jared Sullinger, Perry Jones, and Harrison Barnes pledging to return to school for their sophomore seasons, the 2011 NBA Draft has decidedly gotten weaker. This year's field may be one of the least potent in recent memory, going back to the rather forgettable 2000 Draft which featured Kenyon Martin, Stromile Swift, and Darius Miles as the Top 3 selections.
While the latter parts of the 1st Round and into the 2nd Round may not feature a plethora of game-changing players, it doesn't mean that there aren't some potential All Star caliber ballers at the top. Starting with the Point Guard position, this is the second of a five part series evaluating the Top 10 players at each position. First up was PG, followed by the top SG's, now lets examine the small forward position.
Top 10 SF Prospects
1) Kawhi Leonard, San Diego State
15.5 ppg, 10.6 reb, 2.5 ast, 1.4 stl, .444 FG%, .291 3PT%, .759 FT%
Projection: Top 15 Picks
Anyone that has watched a SD State game this season can attest that the 2nd year forward has developed into hands down the hardest working player in the nation. Despite not having a defined position, he possesses excellent strength and length for a wing player, showing off his high motor and athleticism on drives to the basket. He has an excellent first step, enabling him to finish with authority or pull up for a short range jumper. For the season he averaged a double-double in helping lead his squad deep into the NCAA Tourney. On the flip side, he sometimes relies too much on his explosiveness and at times takes too many off balance shots, as well as needing to improve his perimeter shooting(27%). Leonard's stock is on the rise as despite playing either SG, SF, or PF at times, he is undeniably an NBA talent as he is one of the nation's best athletes on the hardwood.
Comparison: Wilson Chandler/Shawn Marion
2) Marcus Morris, Kansas
17.2 ppg, 7.6 reb, 1.6 ast, .570 FG%, .342 3PT%, .688 FT%
Projection: Late Lottery to Mid 1st Round
Marcus may very well be the most complete front-court player in the entire draft. He can shoot from the perimeter, is capable of banging down low, or taking his man off the dribble. When on the court, Morris is capable of dominating a game as he led the Jayhawks in scoring(17.2 ppg), as well as grabbing 7.6 rebounds per night. He also shoots nearly 60% from the field and an impressive 35% on treys. He has scored in double figures in all but 2 contests and ranked among the nation's leaders in double-doubles. He brings an added toughness from Philly that exceeds most players at his position. Is average defensively because of a short wingspan. Marcus's stock is on the rise even though his Jayhawks suffered an early exit from March Madness. Although he played mostly PF in college, Marcus will have to look to be more of an offensive minded SF at the next level because of lack of height against bigger forwards.
Comparison: Paul Pierce/Caron Butler
3) Chris Singleton, Florida State
13.1 ppg, 6.8 rebs, 1.2 ast, 2 stl, 1.5 blk, .434 FG%, .368 3PT%, .667 FT%
Projection: Mid to Late 1st Round
As one of the more intruiging players in the entire draft, Singleton decided to return to Florida State this season to prove he can be a go-to-guy and to further develop his offensive game. He has a prototypical NBA physique and reminds some scouts of Josh Smith or Gerald Wallace. He can drain the occasional three(41%) but still struggles to find his own shot. Since he has improved his low post game, it is difficult to predict exactly where he will be selected as some Mocks have him as either a Lottery sleeper or missing the 1st round all-together. He shook off an unfortunate knee injury late in the year but returned in a limited capacity to help the Seminoles play into the final weekend of March Madness. Defensively, Singleton shines, possessing lock-down ability even at the next level. If healthy, he could be a sleeper in this year's Draft.
Comparison: Gerald Wallace/James Posey
4) Tobias Harris, Tennessee
15.3 ppg, 7.3 rebs, 1.3 ast, 1 blk, .460 FG%, .303 3PT%, .753 FT%
Projection: Mid to Late 1st Round
In his first season under the now dismissed coach Bruce Pearl, the once highly touted HS prospect adapted nicely to rank 2nd on the Volunteers in both scoring(15.3) and rebounding(7.3). Despite his team's roller coaster of a season, Harris has been the model of consistency, scoring in double figures nearly every game of the season. He is a tremendous mismatch in that he can take his man off the dribble in addition to being big enough to bang down low. He has amazing passing skills and has been known to take a defensive rebound all the way to the cup on occasion. He is a noted gym rat, has shown versatility by being able to play nearly any position on the court with his skill set and size. Tobias shows promise defensively as well because of a tremendously long wingspan and large frame. Harris is still a work in progress and considering he's one of the youngest players in the college ranks he would benefit from another year at Tennessee but is good enough to be selected in Round 1. Potential could be unbelievable once his body fills out.
Comparison: Luol Deng
5) Tyler Honeycutt, UCLA
12.8 ppg, 7.2 rebs, 2.8 ast, 1 stl, 2.1 blk, .406 FG%, .362 3PT%, .736 FT%
Projection: Mid to Late 1st Round
Honeycutt is a 6'8 versatile and athletic player who can interchange between the off guard and forward positions as his long arms and active movement help him hit the boards hard and rebound the basketball despite being just under 200lbs. He's deceptively quick in the post, yet equally potent from the perimeter. He definitely needs to add bulk to guard bigger players at the next level, hence he is better served at the SF position. He also could use work creating his own shot. Tyler is reportedly one of the hardest workers in practice and projects as a stat stuffing player in the Tayshaun Prince/Josh Childress mold. Could have been a Top 10 player with another year of seasoning.
Comparison: Tayshaun Prince/Nicolas Batum
6) Kyle Singler, Duke
16.9 ppg, 6.8 rebs, 1.6 ast, 1 stl, .430 FG%, .321 3PT%, .806 FT%
Projection: Late 1st Round
While it's a bit puzzling to figure out just why Kyle's numbers were down across the board in his senior season, he remains one of the best all-around players that the college ranks have ever seen. His production has been almost legendary, ranking in the Top 5 in most offensive categories in Duke history. He has been stuck in a prolonged shooting slump that goes back to the 2010 calendar year but has a plethora of moves to create space and score at an above average level. Despite a lack of overwhelming athleticism, Singler excels in nearly every facet of the game from rebounding, passing, ball-handling, and even holds his own defensively. He is the consummate winner and team player, qualities that some NBA coaches long for.
Comparison: Mike Dunleavy/Shane Battier
7) David Bertans, Latvia
Projection: Late 1st to mid 2nd Round
As one of the European ranks best perimeter shooters, David has a quick release, and shows a knack for using his size to create space to get his shot off with his pull-up jumper. Although he struggled against American competition in this year's Nike Hoop Summit, he has amazing potential. He's still growing into his body as he has grown almost 8 inches over the past 2 seasons and is more than capable of adding weight to a currently thin frame. He's the type of player who should be able run off ball screens and get open, in addition to rolling off the high pick and roll on the perimeter for a quick and open look from 3. Has solid athleticism for his size, but not really a great leaper. On defense he plays decently well on his man with size, length, and decent lateral quickness, and will make the occasional nice help side blocks or steal in passing lanes. Rumor has it that some GM's are so enamored with his lights out shooting ability that he may be a fringe 1st Rounder. Since he is a few years away from being an NBA ready player, odds are he will be taken somewhere in the 2nd and stashed in Europe for a few seasons.
Comparison: Danilo Gallinari
8) DeAndre Liggins, Kentucky
8.6 ppg, 4 rebs, 2.5 ast, 1.2 stl, .424 FG%, .391 3PT%, . 648 FT%
Projection: Early to Mid 2nd Round
After measuring out well at the 2010 NBA Draft Combine, Liggins stock is on the rise. After being virtually on no one's radar prior to his Junior campaign in Lexington, he has shown the ability to be a lock-down defender behind an extremely long wingspan and outstanding athleticism. Capable of playing any position from 1 through 4, he is one of those utility role players that NBA coaches love. Skilled, smooth, and capable of making some difficult passes look easy, Liggins offers an assortment of offensive tools, but his highly questionable decision-making held him back from being an efficient player last season. He has improved 3 point range and can be a ferocious finisher at the rim. When functioning as a primary ball-handler, Liggins has shown solid ball-handling ability, but has tendency to get tunnel-vision to the rim as soon as he receives an outlet pass. Partially because he is a year older than most players in his class, Liggins surprisingly chose to remain in this year's draft. It appears to be a wise one as his stock arguably wouldn't have gotten any higher next season.
Comparison: Tony Allen
9) Jereme Richmond, Illinois
7.6 ppg, 5 rebs, 1.8 ast, .528 FG%, .167 3PT%, .605 FT%
Projection: Late 2nd Round to Undrafted
Jeremy is a once highly touted HS player with prototypical NBA size and skill from the SF position. With that being said, he was a prime candidate for a player needing to stay in school for another season to improve his draft stock. He has a great amount of athleticm, a high motor, and excels at getting to the rack in addition to shooting an above average percentage from the field. He needs to add the 3 point shot to his arsenal to keep defenders honest at next level. Decent rebounder because of lang wingspan. Still a work in progress on defense, must continue to add weight, and must have better shot selection. With a few more years of seasoning, he may have been a Lottery selection but is still unproven and not an NBA ready player.
Comparison: Thaddeus Young
10) Bojan Bogdanovic
International
Projected: Late 2nd Round to Undrafted
Possessing prototypical size to play either the 2 or 3 positions in the NBA, Bojan has developed into one of the more crafty scorers in all of Europe. The 6'7 wiry thin scorer has been named a European All Star for the past few seasons after putting up 18 points and nearly 2 steals per contest. He's a high volume 3 point shooter and despite only average athleticism plays an above average brand of defense. He has a decent midrange game and excels off the catch and shoot. While his thin frame as it stands now and lack of overall athleticism, Bojan will probably never be a starter in the Association but projects well as a defensive role player with 3 point prowess.
Comparison: Rudy Fernandez
Other Notables:
Chandler Parsons, Florida, 6'9, 200lbs, Senior – SEC Player of Year is above average play-maker, long range shooter, and facillitator. Hasn't produced as expected in 4 seasons but has proven to know how to score. Limited defensively. Point forward prototype.
Chris Wright, Dayton, 6'8, 215lbs, Senior – Stock has dropped with team's limited success last 2 seasons. High flying, prototypical size for SF. Excels slashing to the basket and scrapping for rebounds and loose balls. Frustrating player since he has all the tools to be a good pro but hasn't lived up to the hype. May be good candidate for superstar in Europe.
Justin Holiday, Washington, 6'6, 185lbs, Senior – Although average offensive player, is outstanding defensive play-maker with outstanding athleticism and instincts. Legit perimeter shooting threat. Could be defensive stopper at next level in Ronnie Brewer mold. Brother of Sixers Jrue Holiday.
Gilbert Brown, Pittsburgh – 6'6, 215lbs, Senior – Explosive athlete, as well, both explosive around the basket and quick in the open floor. Limited as a scorer and ball-handler at the collegiate level, good passer, and outstanding defender. Future dunk contest competitor.
Nikola Mirotic, Real Madrid, 6'10, 210lbs, 19 yrs old – Recently developing prolific scorer in Spanish leagues. Above average rebounder and decent defender behind 7'1 wingspan. Excellent size and quick release as fundamentally sound player. Receiving decent amount of draft buzz despite nearly 3 years remaining on Euro contract at $2mil per season.
Allen Moll has been a lifelong NBA and NCAA College Basketball fan who watches and studies games religiously, and coaches youth basketball in his native Lehigh Valley region of Pennsylvania.  Allen also provides content to Bleacherreport.com, Upperdeckblog.com, in addition to being a tenured NBA and NCAA columnist for TheHoopDoctors.com.