April 11, 2011 – Kevin Burke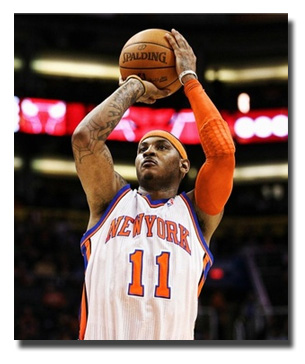 Hold up. Wait a minute. All of a sudden the "Melo on the Knicks isn't going to work" doubters are quiet. All it took was a very timely 7-game win streak. Who knew?  The Knicks are rolling right now and will have some momentum to carry over into the playoffs.
Wins at Philadelphia, New Jersey and Indiana highlighted last week but there was none bigger than the Philly win. At the time of last week's Monday's Weekly Knicks Notes, New York was a half game behind the Sixers for the 6th spot in the East and I mentioned that I thought the Heat would be the only favorable matchup in the playoffs. Well, now the Knicks are in fact 6th in the East thanks to their win streak, but because the Celtics have faltered of late, the Heat are now 7th. That means that if things don't change quickly, Boston would host New York.
Last week, I stated that there was no way the Knicks could beat the Celtics in a 7-game series but I'm starting to rethink that. Boston is definitely not the same team since the Perkins trade. Above all, I think it has affected the team mentally more than anything. That trade blindsided every player on the roster, not just Perk. The Celtics were a close-knit bunch and to see one of their teammates and friends get shipped out so unexpectedly appears to have taken a toll on their edge. Couple that with the fact that Shaq can't stay healthy, and suddenly they look extremely vulnerable down low and look very beatable. They are 9 – 10 in their last 19 games and during that 19 game stretch, they are averaging an NBA low 90.2 points per game. So not only are they still torn up over Perk, but now they can't score either. The Knicks play these Celtics on Wednesday night in the regular season finale and I'm sure it will be intense since positioning is still at stake for both teams. That game will be very telling.
The Heat, on the other hand, hold a one game lead over the reeling Celtics and looked very convincing in their win over Boston yesterday. They seem to be playing with a certain confidence, but I'm not going to back off of my stance that I feel as if this is the best matchup for the Knicks in the playoffs.
But back to the play of the Knicks on the court last week. As I mentioned, the Philly win was huge and last night's win at Indiana was big too since the Pacers swept a home and home series from the Knicks about a month ago. There was no Amar'e Stoudemire last night which meant that it was 'Melo time. He certainly didn't disappoint. His 34 points helped fuel the come-from-behind win, but it was how he did it which was so impressive.
New York was down by one with only seconds remaining. 'Melo was in an iso on the right side of the court with Danny Granger defending him. As he does time and time again, Anthony lulled his defender to sleep before rising up to hit the go-ahead J with 4 seconds remaining to put the Knicks up one. Now, I liked Wilson Chandler and Danilo Gallinari, but I'm sorry, they would not have hit that shot. And that's why the Knicks brought him in because they lacked killer instinct on the perimeter. In fact, Carmelo leads the NBA in game winning shots with 10 seconds or fewer remaining since 2005. To add to that, he even blocked Granger's jumpshot on the other end of the court to preserve the win. Apparently he does play D.
By next Monday when my next update is out, the Knicks will already have started their playoff series and I assure you they will be a tough out. They are clearly the most dangerous underdog this playoff season and they have finally secured a winning regular season record.
If you're looking for your everyday, predictable basketball talk, then go somewhere else, because Kevin Burke of The Kevin Burke Project brings provocative, thought provoking content about basketball as only he can. Kevin also hosts The Hoop Doctors weekly podcast show, which you can subscribe to for free on iTunes. Follow Kevin on Twitter and Facebook