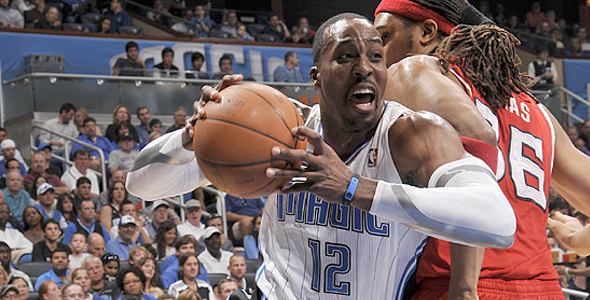 April 18, 2011 – R.S. De France
One of Magic fans' worst nightmares came true on Saturday. Fans wonder if Dwight Howard will re-sign with the team. They wonder whether or not they can return to the finals with this roster. When the Magic lost by ten, 103-93, to the Atlanta Hawks we finally had playoff proof of how far the Magic has fallen since last season.
We are talking about a Hawks team that made no significant roster changes since last season, other than swapping Mike Bibby for Kirk Hinrich.
Midseason, the Magic made two deals, one sending Rashard Lewis to Washington for Gilbert Arenas, the other sending Marcin Gortat, Vince Carter, and Mickael Pietrus to Phoenix for Jason Richardson and Hedo Turkoglu.
Last season, the Hawks were swept by the Magic in the Eastern Conference Semifinals, 4-0. And in those games, the Magic won by an average of 25.2 ppg.
So far, the Magic has given up home court advantage by losing game one.
To win, the Magic will need to get something more out of Jason Richardson. Last year, he had some good games in the Western Conference Finals against the Lakers. In '10, Richardson averaged 19.8 ppg in the playoffs, while shooting 50.2% from the field and 47.5% from three-point range.
Also, the Magic has to be more committed defensively. In game one, the Magic, three blocks and three steals, got out-worked by the Hawks, one block and eight steals.
It wouldn't hurt for the Magic to take better care of the ball, either.
If the Magic doesn't right the ship, they could be on the wrong side of sweep this time.
Rob S. De France is a College and University instructor of English Composition living in Los Angeles. He has a B.A. in English and an M.A. in Rhetoric, Composition, and Writing. De France has played, coached, and officiated competitive high school basketball in California for many years. Recently, De France, his wife, and another colleague started an internationally read magazine at Shwibly.com.