April 17, 2011 – The Hoop Doctors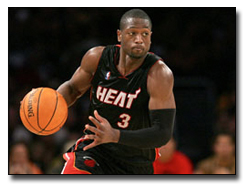 Well, fans of the Philadelphia 76ers have got to be excited to hear that Dwyane Wade of the Miami Heat missed practice today due to a severe migraine. Wade killed the Sixers late game comeback in Game 1 with some clutch shooting and defense.
Wade did not practice Sunday because of symptoms of a migraine, a problem that has plagued him for years and kept him out of a game earlier this season. His status for Game 2 of Miami's Eastern Conference first-round series against the Philadelphia 76ers on Monday is unclear, prompting at least some mild concern for the Heat.
"He'll be here," predicted Heat forward LeBron James.
Heat coach Erik Spoelstra didn't go out on that limb, saying that it's "too soon" to know if the 2006 NBA finals MVP will be available when Miami gathers for practice Monday morning to complete preparations for Game 2.
Read more details via AP on NBA.com