February 29, 2011 – Kevin Burke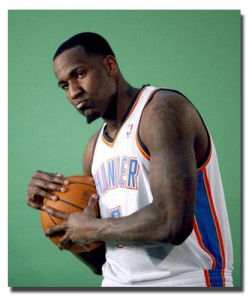 Each year, the trade deadline brings some surprise deals at the last second. On Wednesday of last week, I thought the Deron Williams deal was all the surprise that I could handle, but the Celtics and Thunder sent me reeling even more the next day. By now you've heard that Boston sent Kendrick Perkins and Nate Robinson to Oklahoma City for Jeff Green and Nenad Kristic. This deal makes the Thunder a legit contender in the West while also weakening the Celtics.
Last year the Thunder were 50 – 32, which was good enough for 8th in West. In a year where every team in the Western Conference won at least 50 games, their reward for having a breakout season was first round a matchup against the defending champion Lakers. That won't be the case this year because they definitely won't finish 8th.
With Kevin Durant and Russell Westbrook both under the age of 24, the Thunder clearly have the best young core in the Association. When you sprinkle in Jeff Green and James Harden, their future looked very bright. Unfortunately, all of those guys made their living on the perimeter and the Thunder were one dimensional and vulnerable down low, so had you had the feeling that one of the four aforementioned perimeter guys would be expendable.
The Thunder had guys like Nick Collison, Cole Aldrich, Serge Ibaka and Kristic down low, but that still wasn't enough for them to be taken seriously. They needed someone battle tested and proven on the block that doesn't necessarily need the ball (because there aren't enough to go around as is) in order to make a difference. Enter: Kendrick Perkins.
Like most, I didn't see this coming but luckily for OKC, it did. Perkins was instrumental in Boston's championship run a few years ago and some will always think that if he didn't hurt his knee in Game 6 of the Finals last year, the Cs would have hung another banner in their gym (I'm not one of those people, though). Perk is one of the best defensive Centers in the game and couldn't really care less if he scores. So now, the Thunder are legit on the perimeter and have some serious size down low.
Perkins is out until mid-March or so with a knee injury (separate from the one that kept him out this season until January), but when he's healthy and this teams gels, they are going to be one of the best teams in the West (not to mention that Nate will provide a spark off the bench).
Right now, the Spurs, Mavs and Lakers are all ahead of the 4th seeded Thunder, but I truly believe that now the Thunder could beat any of those teams in a 7-game series. Granted, the Lakers edged OKC yesterday, but again, Perk didn't play and he surely would've made a difference. I'm not necessarily saying the Thunder are the best team in the West, but these boys are for real now.
Conversely, this was a head scratcher for Boston from a personnel standpoint. The current Celtics squad is best known for defense, especially around the basket, and they willingly surrendered their meanest low post presence in that regard. The reasoning was that Perk will become a free agent after this season and they won't be able to afford him and they might lose him to free agency. Therefore, they wanted to get back some assets for him, rather than getting jilted. I get that, but their championship aspirations just took a severe hit.
Sure, the Celtics have had the best record in the East practically the entire season and they did that primarily without Perkins, but both Shaq and Jermaine O'Neal are hurt. When Perk and both O'Neal's were out, Semih Erden was the man in the middle for Boston. Not necessarily a name I want to trust come playoff time. Neither is Nenad Kristic.
Hypothetically speaking, even if Shaq is healthy come playoff time, which is no guarantee as injury prone as he has become later in his career, I'm not in love with the oldest player in the NBA manning the middle. Who knows how long those 38-year old legs will hold up and I wouldn't necessarily rest easily knowing that Kristic can hold it down for me either. But with Perk, that was a lock.
Boston took a few steps back with this one and I'm not sure they will come out of the East now. While they were able to get by without Perk so far, the playoffs are a different animal because they won't be playing bottom feeders like they do in the regular season. And that's exactly why Thunder must now be taken seriously.
If you're looking for your everyday, predictable basketball talk, then go somewhere else, because Kevin Burke of The Kevin Burke Project brings provocative, thought provoking content about basketball as only he can. Kevin also hosts The Hoop Doctors weekly podcast show, which you can subscribe to for free on iTunes. Follow Kevin on Twitter and Facebook