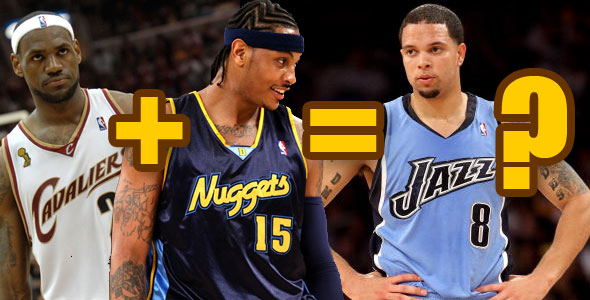 February 25, 2011 – Kevin Burke
I can't exactly say I saw that coming. Then again, neither can Deron Williams. In somewhat of a surprise move, the New Jersey Nets dealt for the aforementioned former Jazz Point Guard. While Williams is plenty talented, the Nets probably surrendered too much for his services. But it isn't their fault. It has more to do with LeBron James and Carmelo Anthony than anything else.
In this deal, Utah receives Devin Harris, Derrick Favors, two first round picks and cash considerations. The Nets will only receive Deron Williams. In a separate deal, the Nets sent Troy Murphy and his expiring contract to Golden State for Dan Gadzuric and Brandan Wright, but that deal was done more for monetary reasons than anything else. Let's focus on the Deron deal.
Back before LeBron exercised his right as a free agent last summer and relocated to South Florida, there were reportedly only a handful of teams that were legitimately in the running to land him. They were the Cavs, Heat, Bulls, Knicks and the Nets. The Cavs, Heat and Nets followed the Knicks' lead and began clearing cap space in advance of the summer of 2010 in order to make sure that they had enough money to sign the most coveted free agent in the history of the league. Although these teams were technically in the running, I didn't find it likely that LeBron would land in New Jersey. Although they were the best team in the East not that long ago, they have fallen off significantly with the help of a 12 – 70 record last year and the loss of guys like Jason Kidd and Vince Carter in years prior. And the Nets don't get much love on New York sports talk radio even though the Prudential Center is some 30 miles or so away from Midtown Manhattan. They have quickly become a less than desirable team for star players to go to.
Once The LeBron Show ended, it didn't take long before The Carmelo Show began taping episodes. Carmelo's ordeal was long, drawn out, painful and finally came to an end earlier this week when he was dealt to the Knicks. Once again, the Nets were active participants in this saga, but I never considered them to have a legit shot because of one reason: Carmelo didn't want to play there and wouldn't sign that 3-year, $65M extension which was definitely a deal breaker.
Even when Mikhail Prokhorov said several weeks ago that his team would no longer be actively pursuing 'Melo, I didn't believe him, because who makes a formal announcement that they are no longer going after a player? They just stop doing it. They don't tell people that they're going to stop doing it. I guess that's how they get down in Russia.
So as of Monday night, the Nets swung and missed on both LeBron and Carmelo and their biggest acquisition (the draft notwithstanding) from last season was Jordan Farmar, unless you think Sasha Vujacic is a better player. They had to do something. Missing out on Both LeBron and Carmelo put their backs against the wall because they cleared all this cap room and they're right on the outskirts of a major market. The most major market.  So they were forced to pull the trigger on a star player with the trade deadline looming.
I think Deron is the best PG in the league not named Derrick Rose so I don't need to be convinced as to how good of a player he is. But man, they gave up a lot for him. Devin Harris, who has shown to be a bit injury prone of late, is 27 years old and is averaging 15 and 8. Derrick Favors is 19 and has incredible upside. That doesn't even take into account the draft picks that they're giving up, which are critical for a team in rebuilding mode. Williams is definitely better than Harris, but not three additional players better. But again, they had to do this.
Word has it that Deron actually found out that he was traded by watching SportsCenter. That's how much of a shock it was. He was reportedly saddened by the news. This move is extremely risky for the Nets because Deron will be a free agent after next season and if he wasn't thrilled about leaving Utah for New Jersey, there's no guarantee that he'll resign with them during the summer of 2012. He could leave for New York in fact, which would leave the Nets in a worse position than they were in yesterday. To say this is a gamble is putting it lightly. They are going to have to make this guy feel special for the next year and a half. They need to fill his head with personnel promises to convince him not to leave. I wish them luck.
But, how about Utah? In a matter of weeks, they lost their longtime head coach Jerry Sloan and longtime assistant coach Phil Johnson to retirement, and now their All-Star PG. They received some good pieces back in exchange for Deron, but that's a terrible month for a city with only one major sports team in town.
If you're looking for your everyday, predictable basketball talk, then go somewhere else, because Kevin Burke of The Kevin Burke Project brings provocative, thought provoking content about basketball as only he can. Kevin also hosts The Hoop Doctors weekly podcast show, which you can subscribe to for free on iTunes. Follow Kevin on Twitter and Facebook