January 6, 2011 – Allen Moll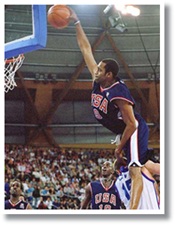 Every basketball fan loves the slam dunk. Poster dunks, alley-oop dunks, dunk contest dunks, in-game dunks…everyone loves a good flush.
This time of year seemingly everyone comes out with their best 'dunks of the year' highlight mix. Last December TheHoopDoctors.com introduced you to one of YouTube's most prolific hoops producers named Ilkkan, who put out a Top 100 Dunks of All-time Mix (2009), where he tended to put more focus on amateur dunkers rather than the run of the mill oft replayed NBA dunks.
While there were some noted exceptions, his Top 100 compilation video for '09 was arguably one of the best I've ever seen, so obviously I was looking forward to a 2010 edition. As a pleasant surprise, I stumbled onto just that, which this time around claims to be all inclusive, featuring the Top 100 Dunks from all levels of basketball.
While the video includes the best highlight reel dunks from the NBA, NCAA, HS, and streetball genres from all over the world, it does slightly miss the mark by including only a handful of classic dunks from NBA players. The most notable omissions being Dominique Wilkins and of all people, the G.O.A.T – Micheal Jordan.
In spite of those glaring exceptions the video is quite entertaining to watch and once again ranks as one of the best YouTube compilations that I've seen this year.
Check out the Top 100 Dunks of All Time (2010 edition):
Allen Moll has been a lifelong NBA and NCAA College Basketball fan who watches and studies games religiously, and coaches youth basketball in his native Lehigh Valley region of Pennsylvania.  Allen also provides content to Bleacherreport.com, Upperdeckblog.com, in addition to being a tenured NBA and NCAA columnist for TheHoopDoctors.com.