January 12, 2011 – Allen Moll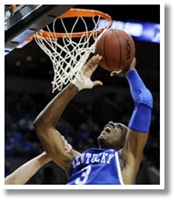 With NCAA conference play already kicking off and as we turn the calendar to 2011, many of the college game's best dunkers are starting to take their game to another level. Some of the NCAA's best finishers from small schools and Division I's top tier programs alike make my list as part of the Top 5 Dunks for December.
In our list ranking the Top 5 NCAA Dunks for November we showcased jams by future NBA lottery picks Terrence Jones of Kentucky, Derrick Williams of Arizona, and Jordan Hamilton of Texas.
Who makes the cut for December? Could we see a 2nd consecutive appearance by Jones, who is rapidly becoming the NCAA's best dunker in traffic, or will we see some other lesser known players from smaller schools break through into the Top 5?
Check out the Top 5 NCAA Dunks for December:
5) High Point's Shay Shine w/Buzzer Beating Facial vs UNC-Asheville
4) Minnesota's Rodney Williams Poster vs Cornell
3) Kentucky's Terrence Jones Two Handed Facial vs Notre Dame
2) Lee University's Larriques Cunningham w/ Dunkface
1) Memphis' DJ Stephens One-Handed Poster vs Georgetown
Honorable Mention:
Kentucky's Terrence Jones Dunks His Own Miss vs Indiana
Harrison Barnes Putback Dunk vs Kentucky
Syracuse's CJ Fair One Handed Break-Away vs Cornell
Tulsa's Justin Hurtt w/ Dribble Drive Banger
Arizona's Derrick Williams 360 jam vs B-Cu
Allen Moll has been a lifelong NBA and NCAA College Basketball fan who watches and studies games religiously, and coaches youth basketball in his native Lehigh Valley region of Pennsylvania.  Allen also provides content to Bleacherreport.com, Upperdeckblog.com, in addition to being a tenured NBA and NCAA columnist for TheHoopDoctors.com.