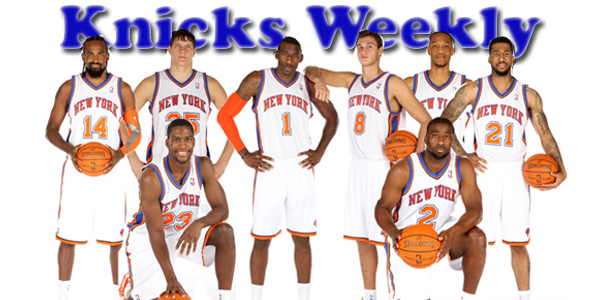 January 10, 2011 – Kevin Burke
They are still the highest scoring offense in the entire league and in most cases, they can run people out of the gym. But that's usually only the case when their shots are falling (since they shoot so many 3s). When they're not, it's a different story. To that end, last week showed the Knicks at their best and their worst.
Housekeeping:
Record: 21 – 15
Streak: L1
2nd place in the Atlantic Division
6th  place in the Eastern Conference
Team Leaders:
Points: Amar'e Stoudemire, 26.3
Rebounds: Amar'e Stoudemire, 9.1
Assists: Raymond Felton, 8.7
Steals: Raymond Felton, 1.9
Blocks: Amar'e Stoudemire, 2.4
Tuesday, January 4 vs. San Antonio Spurs. Final Score: Knicks 128 – Spurs 115
Entering this game, the Spurs had the best record in the NBA and seemed to be defying Father Time. Even though they are an older team, they got off to a very hot start. Unfortunately for them, nobody told the Knicks. The Knicks ran them off the court and Popovicheven pulled his starters with about 3 minutes left, andthe game somewhat in reach, realizing that the gap wasn't getting any slimmer with them on the floor. This was the most points that the Spurs have given up since 1993 and the most points given up in the Tim Duncan era.
Wilson Chandler had a season high 31 points and is definitely playing for a contract next year. At this rate, I'd give it to him. Gallo is hurt so Wilson had to step up and he did just that. I actually think Wilson is the better player of the two. More dynamic.
Friday, January 7 at Phoenix Suns. Final Score: Knicks 121 – Suns 96
Ok, so Amare's return to Phoenix wasn't exactly LeBrongoing back to Cleveland, but personally I was interested in the seeing the reception that he would receive. He got a well deserved standing ovation for his 8 years worthof service in Arizona. He would finish with 23 as the Knicks just simply ran all over the Suns by knocking down 17 3-pointers andled by as many as 34. It's tough to defend against that.
About a week ago, ugly rumors surfaced regarding a potential Steve Nash for Raymond Felton trade. I say ugly rumor because that makes absolutely no sense for the Knicks. Nash won't make them any better. Raymond is doing a fine job this year. In fact Raymond just had his first career triple-double in this game which ironically came against Nash (23, 10 and 11 for Felton to Nash's 14, 2 and 9).
Sunday, January 9 at Los Angeles Lakers. Final Score: Lakers 109 – Knicks 87
The Knicks average about 107 points per contest and were held to about 20 less than that in this one. This game was physical thanks to clothesline flagrant fouls by Ron Artest, but the Lakers are just too big downlow for the Knicks who were outrebounded by 19. Amar'e may very well endup being MVP, but he simply can't defend against Pau and Bynum, who are two legit 7-footers. It's unfair to ask that of him.
The Knicks can score on anybody, so I don't necessarily think that the Lakers took them out of their game. It just wasn't their night and they shot terribly from the field.
General Thoughts
The win against the Spurs was big. It shows me that they can beat the very good teams in the league. In fact, that loss to the Lakers snapped a 8-game win streak against Western Conference teams. I said last week that they couldn't beat the really good teams, but that Spurs win proves they can. Also, the Lakers game showed that they need legit bodies downlow to help Amar'e. Too bad non exist in the league anymore.
This week they have Portland, Utah and Sacramento. I'll fill you in next week.