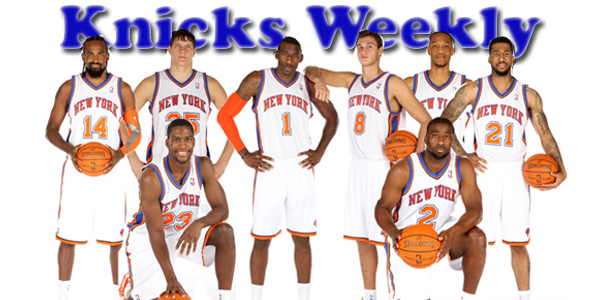 January 3, 2011 – Kevin Burke
After playing many sub .500 teams early on in the year, the Knicks have had their hands full with legit teams of late. They were able to beat good teams like the Thunder and Bullls. But those are just good teams. They weren't able to beat very good teams such as Boston or Miami, and that trend continued last week
Housekeeping:
Record: 19 – 14
Streak: W1
2nd in the Atlantic Division
6th in the Eastern Conference
Team Leaders:
Points: Amar'e Stoudemire, 26.4
Rebounds: Amar'e Stoudemire, 9
Assists: Raymond Felton, 8.7
Steals: Raymond Felton, 1.9
Blocks: Amar'e Stoudemire, 2.3
I'll try not to belabor this edition of Monday's Weekly Knicks Notes. Last week they took on the Heat for the second time this season, the Magic for the first time this year and then the Pacers yesterday afternoon.
After Miami beat up on the Knicks a few weeks ago in New York where LeBron had an effortless triple-double, I was interested to see how they would respond when they met again, given that the two outings were so close together. The rematch, which was in Miami, looked a lot like the first outing but the only difference was that Spike Lee, who was in attendance, wasn't acting as if he had a crush on LeBron this time.
The Heat got off to a hot start and the Knicks played catch up the entire evening. They just seemed overmatched by a more talented team. They weren't blown out like last time only because they put together a mini comeback at the end to only lose by 8 points, but they trailed by double digits for a good portion of the game.
Amar'e did what he does and had 30 points, but Wade had 40 and seemed determined to assert himself early on. He finished strong , with 15 in the final stanza to secure the win for Miami. LeBron and Bosh each had 18 and 10 and it was just too much for the Knicks to overcome.
Two nights later, they Knicks took a trip up the Florida Turnpike to pay a visit to Dwight Howard and company. When the Magic made those deals a few weeks ago to get Gilbert Arenas and Jason Richardson, among others, I thought that you could now put Orlando in the conversation of the best teams in the East. Orlando even beat Boston on Christmas Day (granted, Rondo didn't play) to strengthen my case.
This game was reminiscent of the game down in South Beach a few nights prior. Basically, the Knicks were beat by a better team and forced to play from behind the entire evening. Another 30 points from Amar'e and Wilson Chandler (who should be on the All-Star ballot) had 29.
Amar'e and Dwight were banging all night and it was fun to watch. Stoudemire is clearly the more polished offensive player, but Howard is far and away a better rebounder so it was an interesting matchup. Dwight had 18 boards to just 4 from Amar'e. That's inexcusable. Dwight gobbled up everything in sight and those extra scoring chances that were created by Orlando was the difference.  As a team, the Knicks were outrebounded 51 – 35. Also, in one of the rare occasions this year, the Knicks were outshot from behind the arc, 27 – 22. But we all know Orlando isn't shy to let them fly.
Then yesterday, the Knicks beat Indiana at home, but they were supposed to.
General Thoughts
The point of this week's edition is that while the Knicks are still for real, they're not elite because they just simply cannot beat the very good teams. Of their 19 wins, the best team they beat was probably Oklahoma City. Basically, they'll make the playoff as a 5 or 6 seed and get eliminated in the first round unless something drastic happens.
I have an idea: scoop up 'Melo. If it's between Gallo, Chandler and Fields, I'd move Gallo in order to get 'Melo if that's what it takes. I see more upside in Chandler and Fields than I do in Gallo. 'Melo on the perimeter would make them more dynamic. But what they need more than that is to stop teams from scoring. The Knicks are still first in scoring and almost worst in allowing teams to score.
The Spurs, Suns and Lakers are next up. They'll lose to the Spurs and beat Phoenix and LA (especially the way the Lakers are playing). I'll fill you in next week.
If you're looking for your everyday, predictable basketball talk, then go somewhere else, because Kevin Burke of The Kevin Burke Project brings provocative, thought provoking content about basketball as only he can. Kevin also hosts The Hoop Doctors weekly podcast show, which you can subscribe to for free on iTunes. Follow Kevin on Twitter and Facebook