December 14, 2010 – THD Rumor Patrol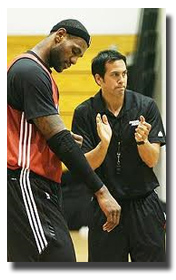 'Defense Wins Championships'. Everyone knows that, including the young Miami Heat Coach Erik Spoelstra. So to help get the Miami Heat out of their early season funk, Spoelstra put in place a reward system. A system that helped put the focus back on defense, and take the pressure off of the Big Three on quite a few possessions to figure out which of them would get the green light to score. You make a defensive stop, then you get to decide the offense…
A simple reward system has contributed to the Heat's current run of eight consecutive blowout victories.
If Dwyane Wade grabs a defensive rebound, he has the green light to do whatever he wants offensively. If LeBron James makes a defensive stop, he controls his own game on the other end of the court.
These are the parameters set by coach Erik Spoelstra, and the chance for offensive freedom has helped spark the most dominant winning streak in franchise history.
"Our job is to defend and then we get rewarded with what we want to do on offense," James said.
Read more details via the Miami Herald