December 7, 2010 – Allen Moll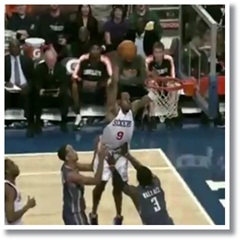 Many predicted prior to the season beginning that Philadelphia 76ers swingman Andre Iguodala, after getting some valuable experience playing overseas in Turkey, was primed for a break-out season and in teaming with #2 overall pick Evan Turner, helping lead the Sixers back to the Playoffs. Some even predicted that this season "Iggy" would challenge for his first Eastern Conference All Star nod come February.
Things haven't exactly gone as planned in Philly so far this season as Evan Turner has been a disappointment, Iguodala has missed time due to an Achillies injury, and the Sixers are every bit as horrific as last season. Outside of former Kentucky stand-out Jodie Meeks making 7 three pointers in a game, there really hasn't been much to write home about concerning the 76ers.
After missing nearly two weeks of games to rest his ailing Achillies, Iguodala returned to put up some excellent all around numbers (18 ppg, 8 reb, and 6 ast) in the last 6 games heading into a game against the Charlotte Bobcats. Towards the end of the 3rd quarter, Andre trailed Lou Williams on a break before receiving a sweet pass and jamming it over two Bobcats players, while they were fouling him. The players in question were Shawn Livingston and Gerald Wallace, who drew a technical in addition to the personal foul, probably out of embarrassment.
Watch as "Iggy" does his best impersonation of Dwight Howard's Superman dunk from the '08 NBA Slam Dunk Contest:
Allen Moll has been a lifelong NBA and NCAA College Basketball fan who watches and studies games religiously, and coaches youth basketball in his native Lehigh Valley region of Pennsylvania.  Allen also provides content to Bleacherreport.com, Upperdeckblog.com, in addition to being a tenured NBA and NCAA columnist for TheHoopDoctors.com.