November 25, 2010 – Alex Rosencutter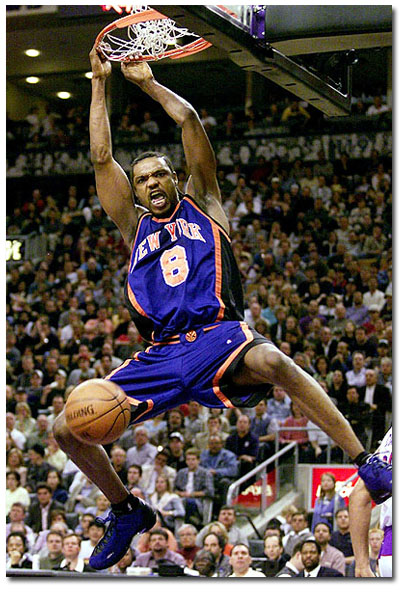 Before averaging 21 points and 4 assists per game and supplanting himself as an NBA All-Star during his second season, Latrell Sprewell was playing follow the leader with Robert Horry at Alabama. He was simply known as the dude that played with Robert Horry. Then the Spre-Man joined Mr. Chris Webber after being drafted 24th in the 1992 draft by the Golden State Warriors. The two formed a dynamic duo with the likes of Chris Mullin and Joe Smith. Spree brought an attitude to the game that was unprecedented and hadn't been seen since the "Bad Boys" of Detroit. He was a mean, fierce defender and scorer that displayed an "in your face" style of play. His play lead to four all-star appearances and NBA First-Team status in 93-94. Even Michael Jordan admitted that Sprewell was the toughest player he had to go against. However, the Warriors decided to call their buddies at UPS and ship out C-Webb, Mullin and Latrells close friend Billy Owens. All the while Don Nelson bolted like a girl on a blind date that went wrong.
Left alone in Golden State, Spree was boiling and doing his best "thug" impersonation, although it never really was an impersonation at all. The hiring of college coach PJ Carlisimo lead to a rocky road that went downhill fast. I'm sure the policemen eating donuts on the corner probably didn't think they would be making an appearance at the Warriors' practice to refrain Spree from choking out Carlisimo. After the incident, fellow teammates recalled Sprewell going at Carlisimo a second time, punching him and demanding a ticket out of Golden State.
Tayshaun, where was this during your debacle with John Keuster?
Sprewell only played 14 games that 97-98 season. After time was spent during numerous trials involving the Warriors' termination of Spree's contract, he was finally suspended by the Warriors.
Soon, the Mecca of basketball came calling for Spree during the shortened, lockout season of 98-99. New York got their man and shipped John Starks to Golden State. He averaged 20 points per game during that playoff run which eventually lead the Knicks to a 5 game series loss to the San Antonio Spurs in the NBA Finals. Spree added another scoring option alongside center and NBA Legend Patrick Chewing. Yes the one from the Snickers commercial. The two along with Allan Houston, Chris Childs, Marcus Camby and Larry Johnson formed one of the best nucleus' in basketball.
All was good in New York; however, Spre-Man just had to screw things up. After the Finals, Spree was feuding yet again with his coach, this time it was Jeff Van Gundy. Once Van Gundy left the Knicks in 2001, all hell broke loose as Spree became angry with Knicks management. He felt mistreated when Allan Houston got the $100 million dollar deal that he felt he deserved. However, the Knicks once again found themselves sinking and shipped unhappy Spree to Minnesota where he teamed with KG and the "Alien Man" Sam Cassell. He became disinterested after one season in Minnesota and fell off the face of the earth after the 04-05 season.
So, what ever happened to the corn rows, the pit bull face, the "Sprewell Spinners", and the attitude/persona known as "Americas Worst Nightmare?"
The Milwaukee, Wisconsin native was last known to be battling debt and laying low in Milwaukee. In 2009, his house went up for foreclosure and he had to sell his $1.3 million yacht to help make payments on the boat. Spree still owed the bank $500,000 and was then later accused in New York with assaulting his girlfriend in front of his children. Since then he has been facing a $200 million lawsuit from his girlfriend as well as another foreclosed home. What happened to "I got a family to feed?" I bet he is wishing he accepted that three year, $21 million deal from the T'Wolves right about now.
"I've made mistakes, but I don't let them keep me down, people say I'm America's worst nightmare, I say I'm the American dream."- Latrell Sprewell
Nightmare or dream? Latrell? Readers?
Alex Rosencutter is a basketball player and kinesiology major at Clarke University in Dubuque, Iowa. Originally from Kenosha, Wisconsin, this hoops addict and die hard Miami Heat fan, who is obsessed with old school hoops, has a fever for basketball and the only prescription is more basketball.