November 29, 2010 – Allen Moll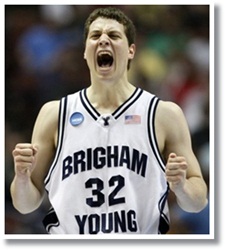 With all eyes clearly fixed upon BYU senior guard Jimmer Fredette after he decided to return to the Cougars, rather than keep his name in the NBA Draft, the consensus NCAA All American has started the year off strong, averaging an impressive 25 ppg and shooting more than 40% from downtown helping to lead his team to a perfect 7-0 record.
Surley if Fredette is once again to keep, not only his name on the tip of NBA talent scout's tongues but propel his squad to another deep run come March, he must prove he can do alot more than just score the basketball. So far this season, he's done just that by also averaging 5 assists and 2.2 steals per night, while turning the ball over just over once per game.
One of those assists came at the most opportune time as he served up a sweet dish to teammate Noah Hartsock, who sank the game winning shot in a 77-75 double overtime thriller over South Florida in the 3rd round of the San Padre Invitational Tournament.
In the game, Fredette was again magical as he scored 32 points and dropped 4 assists, while shooting a perfect 8 of 8 from the free throw line. Jimmer looks like he's clearly focused on making it to the next level.
Check out Jimmer Fredette's Assist to Noah Hartsock to Beat USF in 2 OT:
Allen Moll has been a lifelong NBA and NCAA College Basketball fan who watches and studies games religiously, and coaches youth basketball in his native Lehigh Valley region of  Pennsylvania.  Allen also provides content to Bleacherreport.com, Upperdeckblog.com, in addition to being a tenured NBA and NCAA columnist for TheHoopDoctors.com.