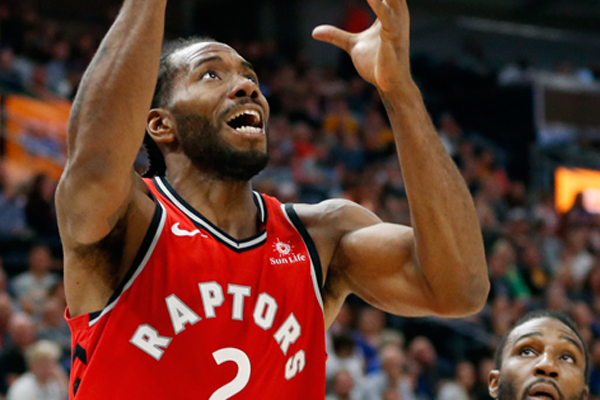 Game 7 of the Raptors / 76ers playoff series is one that will go down in history.
Kawhi Leonard hit a shot from the corner over Joel Embiid at the buzzer that bounced, bounced, bounced and bounced off the rim before falling setting off a wild celebration as the Raptors advanced to the conference finals for the second time in four seasons.
? THE SHOT. THE BOUNCE. THE WIN. ?

Kawhi Leonard drops in the #TissotBuzzerBeater to lift the @Raptors to the Game 7 win! #ThisIsYourTime #WeTheNorth pic.twitter.com/bpRx7GXiKu

— NBA (@NBA) May 13, 2019
That shot has solidified Leonard among the elite. Prior to last night, Michael Jordan was the only player who had ever decided a winner-take-all NBA playoff game at the buzzer. Jordan was also one of only two players in league history who scored more points in a post-merger playoff series than Leonard did in seven games against the Sixers. The other guy's name is Kareem Abdul-Jabbar.
When the game-winner finally fell, the usually stoic Leonard let out a primal scream.
"I knew it was Game 7, and I didn't want to leave any shots in my mind," Leonard said of his sky-high usage. "This could've been my last game of the season, and I would've had to wait five months to put another shot up in a game, so I was going to leave it all out on the floor tonight and not worry about makes or misses."

"I'm a guy that acts like I've been there before, so probably the last time you've seen me scream is when we won (the NBA championship in San Antonio)," Leonard said of his emotional explosion. "Whenever it's a moment that I haven't really experienced, I try to give and show some emotion, and let it just come out."
Here are some of the best reactions after the shot:
?????????????????

— LeBron James (@KingJames) May 13, 2019
Dirty https://t.co/BtDRQJz9vc

— Damian Lillard (@Dame_Lillard) May 13, 2019
WoW! ?? you got the juice now!

— DWade (@DwyaneWade) May 13, 2019
My lord me Leonard ??!!!!!!

— Andre Drummond (@AndreDrummond) May 13, 2019
Biggest shot in Raptors history.

— ? Jamal Crawford (@JCrossover) May 13, 2019
?

— Karl-Anthony Towns (@KarlTowns) May 13, 2019
So what's next for the Raptors? Well, for the first time this postseason, the Raptors will open a series on the road. They will face off against the top-seeded Milwaukee Bucks. The Bucks have looked the part of championship team all year, with Giannis Antetokounmpo leading the way. Raptors fans will have to wait and see if Kawhi will be the one to finally stop The Greek Freak.