November 29, 2010 – Allen Moll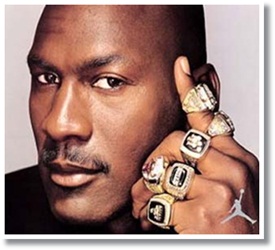 Many people have differing opinions on whether Lebron James made the right choice in taking his talents to play in South Beach this season depending on their allegiances, but no one's opinion means more in the eyes of basketball fans than that of the G.O.A.T. – Michael Jordan.
Everyone from Hall of Fame players like Magic Johnson, Dominique Wilkins, Scottie Pippen, and even Charles Barkley chimed in to voice their disapproval of Lebron's choice to leave his home-state and play alongside his friends Dwyane Wade and Chris Bosh on the Miami Heat.
In my opinion, legends of the game take issue more with how "The Decision" was revealed in a national TV special rather than the actual making the choice to change what team to play for. After all, Barkley left Philly after numerous seasons to chase down a ring with the Suns and Rockets later in his own career, only to be thwarted by MJ and those darn Chicago Bulls. But MJ is the player that the legends of the game, as well as James himself, are constantly compared to and desperately want to be like.
To make matters worse, within the last month, Lebron has tarnished his image a little more by putting out that annoying "What Should I Do?" commercial, that looks to be a child-like rebuttal to all who question his motives. Cleveland fans recently edited their own responses to Lebron's questions in their very own Lebron diss video mash-up.
Not sure who is responsible for the mash-up but they are using the voice of the GOAT to put closure to all these revenge pieces by setting Lebron straight in a video mash-up of Lebron's now famous "Rise" commercial and Jordan's "Become Legendary" joint from '08.
Watch and enjoy:
Allen Moll has been a lifelong NBA and NCAA College Basketball fan who watches and studies games religiously, and coaches youth basketball in his native Lehigh Valley region of Pennsylvania.  Allen also provides content to Bleacherreport.com, Upperdeckblog.com, in addition to being a tenured NBA and NCAA columnist for TheHoopDoctors.com.