November 28, 2010 – Allen Moll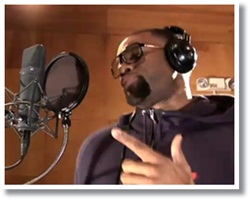 The last time we've heard any news concerning former Syracuse big man Arinze Onuaku he was doing his part in attempting to help the 'Cuse try to win the Big East Tournament last March. Unfortunately for him and his Orangemen teammates, Onuaku sustained a serious leg injury against Georgetown, which essentially ended his season and NCAA career.
The 6'9 and 275 Onuaku did average 10.5 ppg, 5.1 rebs, while leading the Big East in FG percentage (.668%) as a 5th year senior last season but his career was marred a bit because of injuries, even missing the entire '06-'07 season. He finished his Orange career as the school's all-time leader in FG%, 11th in blocks, and is 1 of 15 players in SU history to record at least 1,000 points and 800 rebounds. Onuaku became an instant fan favorite when he shattered a backboard during the '07 Midnight Madness. This Summer, he went undrafted and did surface on the Detroit Pistons Orlando Summer League roster but failed to play due to injury. As a fallback option, Arinze did leave Syracuse with a college diploma in hand.
It's been a recent trend in college basketball for fans, players, or even coaches to come up with a catchy hip-hop tune to be used as an anthem or rallying cry for the season. Last season Tennessee Vols player Renaldo Woolridge, perhaps better known as "Swiperboy", began churning out Tennessee themed songs and a Duke fan recently put out a cheesy, more relaxed Backstreet Boys type rap, that may make you hate Duke rather than cheer for them.
More famously, Syracuse assistant coach Rob Murphy made the smash hit "Shut It Down" which served as a theme song for the Orange last season, making a veiled reference to coach Boeheim's now legendary 2-3 lock-down defensive scheme.
Moving forward to 2010, sophomore Jake Ober and Arinze Onuaku have come up with yet another catchy rap anthem aptly titled "Unfinished Business." All proceeds from t-shirt sales and itunes downloads go towards coach Boeheim and his wife Jill's charitable foundation.
Check out "Unfinished Business":
Allen Moll has been a lifelong NBA and NCAA College Basketball fan who watches and studies games religiously, and coaches youth basketball in his native Lehigh Valley region of Pennsylvania.  Allen also provides content to Bleacherreport.com, Upperdeckblog.com, in addition to being a tenured NBA and NCAA columnist for TheHoopDoctors.com.