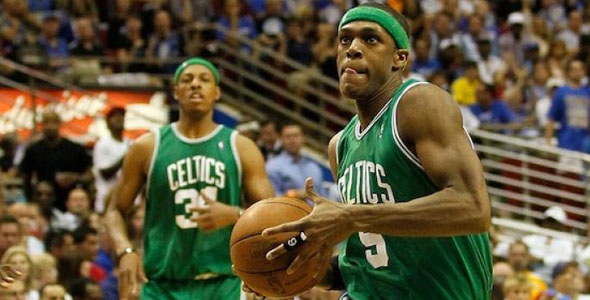 November 3, 2010 – Kevin Burke
Over the past couple of seasons, 5th year Point Guard Rajon Rondo has turned heads and made a case for himself to receive mention in the "Best PG in the league" conversation. He was instrumental in Boston's championship run a few years ago and nearly directed them to another one last year.
This year, he is off to another impressive start. Under the direction of his head coach Doc Rivers, Rondo has been getting his teammates involved by spreading the ball. In Boston's first game against Miami, Rondo only had 4 points, but set the tone for the offense with 17 assists. In their second contest, a surprising loss to Cleveland, Rondo spent more time scoring as he finished with 18 points, but still managed to have an above-average 9 assist outing.
But those were just for fun. Friday night, the gloves came off. Rondo had a triple double against the Knicks which was highlighted by a career high, 24 assists. With that effort, Rondo tied Isiah Thomas for the most assists in a triple double performance in NBA history, and is second in Celtics history behind Bob Cousy's 28. If he continues at this pace, Rondo is sure to break all kinds of records this season.
It's no secret that Rondo plays on a great team that has four future Hall of Famers in Paul Pierce, Ray Allen, Kevin Garnett and Shaquille O'Neal. Having said that, is that the only reason Rondo accumulates so many assists? Rondo's  accomplishment have routinely been questioned because he plays on such a talented team, but it's being magnified even more now because of what he's done this year.
Last year, when Boston gave Rondo a 5-year, $55M extension, I was in disbelief. I was one of those who felt that he was simply a product of a system and was aided by those around him. I thought that if he played in Memphis, we'd hardly call his name or know how to properly pronounce it (it's pronounced Rah-Jon, not Ray-Jon by the way). But after watching him last year, I backed off that claim. He impressed me alot last year and I was finally able to see his worth. After last year, I concede that the thought of Rondo being the best player on the Celtics isn't a crazy notion.
So, does he only rack up so many assists simply because of who he plays with? No. That's not entirely true. If you watch Rondo play you'll see that the man has exceptional vision. He threads the needle in traffic like no one's business. Does he find Allen or Pierce occassionally for a wide open 3, which accounts for a "gimme assist"? Sure, but that's not his fault. I don't think you could put just anyone in that system and have them average 17 assists through 3 games.
I opened by saying that he is in the conversation of  the league's best PG. Just to be clear, he definitely isn't the best, but he's certainly worthy of consideration. He isn't the league's best point man because he can't shoot which causes him to frequently pass up open shots (Getting off track for a second, but can we please stop with the "once Rondo gets a jumpshot, he'll be unstoppable" talk? This is his 5th year so if he can't shoot by now, it's never going to happen. It is what it is, and he is who he is).  
Personally, I love this Rondo debate but I have to give the guy credit. I would attribute it more to his own merrit than simply based on who he plays with. What do you think? Is Rondo doing what he does simply because he plays with four future Hall of Famers?
If you're looking for your everyday, predictable basketball talk, then go somewhere else, because Kevin Burke of The Kevin Burke Project brings provocative, thought provoking content about basketball as only he can. Kevin also hosts The Hoop Doctors weekly podcast show, which you can subscribe to for free on iTunes. Follow Kevin on Twitter and Facebook