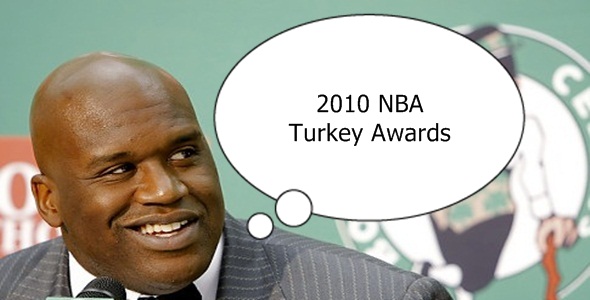 November 25, 2010 – Allen Moll
In honor of everyone's favorite day to carve up the bird, eat til we can't move, and watch football all afternoon, a thought crossed my mind as to just which NBA players would qualify for TheHoopDoctors.com's first ever Turkey Awards. After all, the roundball usually always takes a backseat to the pigskin on Thanksgiving, so why not serve up to you our choices for this season's biggest turkeys of the young season so far?
The word turkey has many meanings. Usually it refers to the main course served on November 25th each year or 3 strikes in a row in the game of bowling. But for our purposes, a turkey in basketball terms is a player or coach that either hasn't lived up to the hype or flat out, absolutely stinks so far in 2010.
Without further ado, here are our 2010 NBA Turkey Awards:
All Turkey Team
PG- Baron Davis
8.8 ppg, 4.8 ast, 2.5 reb, 1.5 stl, .324 FG%, .100 3 PT %
Having not played in an NBA game since November 9th, Baron could be in real danger of losing his starting point guard spot to the up-and-coming Eric Bledsoe, who has been a pleasant surprise in Davis' absence. Creeky knees have been Baron's bug-a-boo since his UCLA days and maybe at age 31, he's better served as a back-up? Gobble.
SG- Andre Iguodala
13.9 ppg, 6.2 reb, 5.3 ast, 1 stl, .417 FG%, .644 FT%
After sitting out nearly 2 weeks worth of games nursing a nagging Achillies injury, Iggy returned to put up 23 pts, 11 rebs, and 8 assists but clearly is not himself this season. His scoring average is at it's lowest since '05-'06 and appears to have tired legs, as evidence of his near 100 point dip from his career FT%(.746). Maybe it's a FIBA World's hangover? Gobble.
SF- Hedo Turkoglu
10.6 ppg, 4.1 reb, 2.2 ast
After playing on his 3rd team in 2+ seasons, Hedo's career seems to still be in a downward spiral in Phoenix. What happened to the guy who sank game-winning shots as a dangerous point forward in Orlando? At age 31, Hedo is now forced to play a front-court position on the always small line-up laden Suns. Can you say square peg in round hole? Gobble-Gobble.
PF- Carlos Boozer
DNP – Injured
Boozer finally gets what he wants…….a multi-year mega-deal and a fresh start for a contender in Chicago then trips over a gym bag and breaks his hand. Seriously, a gym bag? Derrick Rose, Taj Gibson, and Joakim Noah have picked up the slack in his absence but the Bulls transformation into a contender will be delayed until Carlos returns. Gobble-Gobble.
C- Greg Oden
DNP – Injured
I hate to kick a man when he's down, but Oden continues to creep towards that infamous "bust" label as he will be forced to miss yet another full season in the NBA. Not that it's his fault but how can a player be that fragile to play in only 82 games over 3+ seasons, especially as a #1 overall pick. Sorry Greg, but you're a turkey.
Turkey Baster Award for Worst Coaching Performance
2-13
After doing his best to f-up the Chicago Bulls roster this past season, Vinnie Chase has moved on to coach arguably the NBA's all-time worst franchise, the LA Clippers. What's the worst that can happen? Despite having one of the youngest and most talented rosters in all of the league, the Del Negro led Clips are by far the NBA's worst team, beginning the season on a horrific 2-13 clip. Will Vinnie last through the entire season? There's no where to go but up.
Drumstick Award for Most Under-achieving Rookie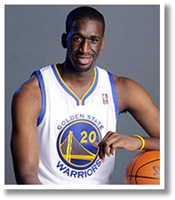 Tie – Ekpe Udoh
Golden State Warriors(#6 Pick)
It's been a whirlwind last year for the 6-10 shot-blocking big man, chosen as the #6 overall pick of the Warriors. After finishing the '08-'09 season at Michigan, Udoh made an improbable transfer to Baylor where he led the Bears to a surprising Elite 8 finish. NBA scouts were so impressed he became a lottery selection, until the hammer fell. Udoh injured his wrist during a Summer work-out with Steph Curry and failed to immediately report the injury until it was discovered there was ligament damage, pushing his NBA debut back 4-6 months until at least January.
Gordon Hayward
Utah Jazz(#9 Pick)
2.3 ppg, 1.4 rebs, 0.3 ast, 0.2 stl, .143 3PT%, 10.3 min/gm
The NCAA wonderboy who almost led the mid major Butler Bulldogs to within a whisker of a National Title, only to have his 3 point attempt clang off the rim isn't having such an easy time of things in the NBA as in college. Maybe all the prognosticators knew what they were talking about when Hayward was voted as one of the players most likely to under-achieve in the pros? I know, it's way early, but 2 ppg and 1.4 rebs per contest for a player that was drawing comparisons to Larry Bird? Please.
Wishbone Award for Bone Headed Decision of the Year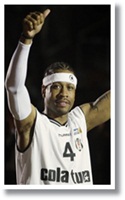 Tie – Allen Iverson Playing Turkish Basketball
We all know why Iverson couldn't hang on to a job in the Association……..playing time, playing time, and not having a starting role. All of which he is currently not getting in Europe. Watching his below average teammates continually shoot the ball over the backboard and miss dunks, while the future NBA Hall of Famer sits the bench irks me to no end. I can't imagine what it does to A.I.   I guess desperate times call for desperate measures? I give him 3 weeks.
Lebron James Going To Miami
In his own words, "Should I not listen to my friends? But they're my friends." Those are the immortal words of Lebron in his infamous "What Should I Do?" Commercial. The answer is no, he** no, especially considering every NBA Hall of Famer in history was questioning how 3 superstars could co-exist. How's that "Decision" working out now Lebron? Leaving a team built around you that finished with the league's best record 2 years straight to play alongside Wade and Bosh on a .500 team? To make matters worse, you're going to get another coach fired(Spoelstra) and oh, by the way, newly signed Eric Dampier wasn't the answer in Dallas. So how will he help in South Beach? I guess Jordan, Pippen, and Rodman can rest easy that their 72-10 mark will remain intact. My guess is that they were never worried to begin with.
Lettuce With Bacon Dressing Award for the Team with Hot Start, Cold Since



After starting the season on fire with a mark of 6-0, the Hawks came plummeting back to Earth by promptly losing 7 of 9 contests. It gets worse, since the 2 wins during that stretch were against league doormats Minnesota and Indiana. After increasing their win total in each of the previous 4 seasons and continually failing to advance beyond the 2nd round of the playoffs each season, are the Hawks due for a shake-up? By rewarding unquestioned leader Joe Johnson with the largest free agent deal of anyone this past Summer, Atlanta will have to get lucky to advance farther. They are getting a lift from the ever-improving Al Horford(16.4 ppg. 9.3 reb, .619 FG%) but the coaching staff continues to play the aging and in-effective Mike Bibby at the point with the heir apparent Jeff Teague riding the pine. Look for Josh Smith or Bibby to be playing elsewhere by season's end.
Cranberry Sauce Award for Best Collegiate Player Nobody Would Touch
Scottie's story is a remarkable and well told one. He became the first ever NCAA First team All American Selection to not get drafted. After playing well in the Orlando NBA Summer League for the Suns, Scottie spurned invites to attend a number of team training camps for a guaranteed contract to play for a 2nd tier squad in Italy. As if we couldn't see this coming, Scottie felt too homesick to continue his European career, and left millions on the table to return to the states. Luckily Reynolds was quickly drafted by the Tulsa 66ers in the NBA D-League Draft and is currently awaiting a big league call-up or 10 day contract. Note to Scottie: You better grab a Snickers bar……it's gonna be a while.
Not all things have been bad this season, so check out some of our awards for best accomplishments:
Sweet Potato Award for Sweetest Dish of the Year
Tony Parker's Behind the Back Dime to Tim Duncan
Pumpkin Pie Award for Best Dunk of the Year
Blake Griffin Putting His Hand on NY's Timofey Mozgov's face as He Serves Up a Superman Dunk
Gravy Award for League's Best Defender
Javale McGee, Washington Wizards
Believe it or not, Javale Boogie is leading the league in blocks at more than 2.9 per contest.
Here's Javale Blocking Shots with Both Hands against the Bucks:
Can of Corn Award for Best Buzzer Beater
Rudy Gay's Game Winner Over Lebron James – Enough said
Jello Casserole Award for League's Biggest Surprise
New Orleans Hornets
What more can be said about the biggest story to begin the year. The outstanding play of MVP candidate Chris Paul has helped propel the Hornets to an 8-0 start, and current 11-2 mark, leaving them only 1 game behind the also surprising San Antonio Spurs, who have only 1 loss. As always, the Hornets fate hinges on Paul and his health.
Chris Paul's 2010 Season Highlights through Thanksgiving:
Green Bean Award for Best Individual Performance
Kevin Love's 31 points and 31 rebounds vs Knicks
Allen Moll has been a lifelong NBA and NCAA College Basketball fan who watches and studies games religiously, and coaches youth basketball in his native Lehigh Valley region of Pennsylvania.  Allen also provides content to Bleacherreport.com, Upperdeckblog.com, in addition to being a tenured NBA and NCAA columnist for TheHoopDoctors.com.