October 1, 2010 – Allen Moll
In 2006, the NBA thought that they had figured out how to attempt to keep young players in the collegiate ranks a few more seasons before allowing them to come to play in the professional ranks. In a collective bargaining agreement, the practice of drafting high school players became prohibited since the league now requires that players must be 19 years of age and at least one year removed from high school.
While the ruling sparked the now common-place one-and-done players in the NCAA, many players are even beginning to find ways around the rule like Brandon Jennings playing overseas for one season, or Latavious Williams, who was a highly touted prospect in the '08 HS Class, who played one season in the D-League because of academic issues, before being selected in the 2nd round of the 2010 NBA Draft.
Since the 2006 rule prohibiting players from going straight to the NBA from high school is constantly being debated and scrutinized, I thought it was about that time to formulate the Ten Best Players Ever to Go Straight from HS to the Pros: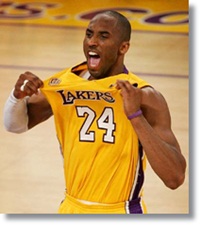 1) Kobe Bryant ('96-Present)
Career Stats: 25.3 ppg, 5.3 rebs, 4.7 ast, 1.5 stl
It was a close contest with Moses and Kobe but Kobe wins out because of his 5 NBA Championships. After being named the '96 Naismith Prep Player of the Year out of suburban Philadelphia, Kobe was selected as the 13th player selected in the 1996 NBA Draft. The Lakers then traded center Vlade Divac to the Hornets for the rights to Bryant. He promptly became the youngest player ever(18) to win the Slam Dunk Contest in only his rookie season. Kobe is still adding to a legacy that will arguably make him the 2nd best shooting guard in the history of the NBA behind only Michael Jordan. He already owns 5 rings, has won the '08 MVP, 2 Finals MVP's, made 12 All Star Appearances, won 2 Scoring Titles, 12 Time All NBA Selections, 10 All NBA Defensive Selections, and a 3 Time All Star Game MVP.
2) Moses Malone ('76-'95)
Career Stats: 20.6 ppg, 12.2 rebs, .491 FG%
The man known simply as "Moses" to NBA fans was undoubtedly one of the league's all-time best players over his 19 year NBA career. After re-nigging on a LOI to play for the University of Maryland, then playing 2 years in the ABA, he was the 5th player ever to go straight to the NBA without playing in college. Rightfully so, Moses was named to the NBA's 50 Greatest Players List after winning 3 MVP's, making 12 straight All-Star Appearances, won 6 Rebounding crowns, and was a 8 Time member of the All NBA 1st or 2nd Teams, in addition to helping the '83 Sixers win a Title. He was especially prolific as a low post scorer and was arguably the best rebounder that the league has ever seen not named Russell or Chamberlain. Malone holds NBA records for consecutive games played without fouling out(1,212), most offensive boards in a season(587), and grabbing 21 offensive rebounds in one game.
3) Kevin Garnett ('95-Present)
Career Stats: 19.8 ppg, 10.8 rebs, 4.2 ast, 1.6 blk
As one of the most celebrated HS players of this generation, "Da Big Kid" became the first player since Malone to be drafted directly out of high school when he was selected as the #5 pick in the '95 Draft by the Minnesota Timberwolves. Garnett was the un-official pioneer of the new breed of hybrid big men currently dominating the college and pro ranks, that have have handles and can shoot in addition to possessing low post skills. Garnett went on to become the face of the struggling Minnesota franchise, taking them to 8 straight Playoff appearances in becoming the franchise's all-time leader in a number of categories including points and rebounds. He dominated the NBA in winning the '04MVP, made 13 All Star Games, was a 9 Time All NBA performer, won the '08 Defensive POY, including 10 All Defensive Team nods, won a Gold Medal for USa in the '04 Olympics, and became an NBA Champion with the Celtics in '08.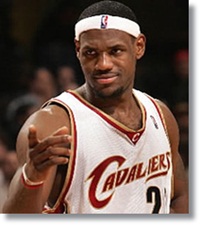 4) Lebron James ('03-Present)
Career Stats: 27.8 ppg, 7 rebs, 7 ast, 1.7 stl, 1 blk
After winning 3 consecutive Ohio State Titles at St. Vincent-St. Mary's HS and winning most national POY awards in his senior season, James decided to take his considerable talents to the NBA after losing his NCAA eligibilty by participating in more than 2 HS All Star events as a senior. James took the league by storm by joining Oscar Robertson and Michael Jordan as the only players at the time to average 20 pts, 5 rebs, and 5 ast in their rookie season and was named the '04 ROY. He also became the youngest All Star Game MVP(21 yrs) and scored 35 or more points in 9 consecutive games during the '05-'06 season, joining Jordan and Bryant as the only players since 1970 to accomplish this feat. James career accomplishments to this date are spectacular: 2 Time MVP, 6 consecutive All Star appearances, '08 Scoring Champion, 6 Time All NBA Selections, 2 Time Defensive All NBA, and 2 Time All Star Game MVP. No doubt as he needs is a ring to move up the list.
5) Tracy McGrady('97 – Present)
Career Stats: 21.5 ppg, 6.0 rebs, 4.7 ast, 1.3 stl
As the '97 USA Today HS Player of the Year at Mt Zion Academy in North Carolina, McGrady started his NBA career off slow by only averaging 7 ppg, after being selected as the 9th pick in the '97 NBA Draft. After originally being known as Vince Carter's little cousin, McGrady started to develop into one of the league's premier players once he joined the Orlando Magic. In Orlando, then Houston he would go on to win 2 Scoring Titles, make 7 All Star appearances, garner 7 All NBA selections, and win the league's Most Improved Player Award in 2001. Unfortunately injuries have thwarted a possible Hall of Fame career, but Tracy continues to make a comeback, this time with the Detroit Pistons in '10-'11.
6) Shawn Kemp ('89-'03)
Career Stats: 14.6 ppg, 8.4 rebs
Some fans will chose not to include Kemp on this list because he was enrolled at both Kentucky and Trinity Valley Community College, but officially never played a game of college ball. As the 17th pick in the '89 Draft by the Supersonics, Kemp became the youngest player(19 yrs) at the time to play in the NBA. While in Seattle, Kemp grew into becoming a Top 5 player in the league, playing alongside fellow All Star Gary Payton, and averaging a double-double for 6 straight seasons between '91-'97, before his career went off the deep end, playing for 3 teams over his final 6 seasons. During his career, Kemp was known as one of the league's best high flyers, regularly competing in the Slam Dunk Contest. Shawn was a 6 Time All Star and 3 Time All NBA performer.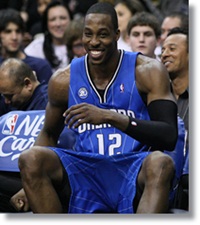 7) Dwight Howard ('04-Present)
Career Stats: 17.5 ppg, 12.7 rebs, 2.1 blk, .575 FG%
After his senior campaign at SW Atlanta Christian Academy, Howard swept all major HS POY Awards en route to being selected as the #1 overall pick by Orlando in the 2004 NBA Draft. Seen as the replacement for the departed Tracy McGrady, Howard worked hard to become arguably the game's most imposing and physically gifted big man over the past 5 seasons. In his rookie season, he became the youngest ever to average a double-double for a season and the youngest to grab 20 rebounds in a game. He has led the league in rebounding 3 times, blocks 2 times, and double-doubles twice. He is already a 4 time All Star, 2 Time Defensive Player of the Year, 3 Time NBA All Defensive Team member, 3 Time All NBA performer, and the '08 Slam Dunk Champion.
8 ) Jermaine O'Neal ('96-Present)
Career Stats: 14.2 ppg, 7.5 rebs, 1.9 blk
Despite an outstanding HS career at Eau Claire HS in South Carolina, O'Neal's basketball career almost ended before it began after scoring poorly on the SAT's. But after some mentoring by his HS coach, he straightened out and was chosen as the #17 pick in the '96 NBA Draft. After playing minor minutes off the Portland bench over his first 4 seasons, Jemaine blossomed into a perrenial All Star and elite level shot blocker in Indiana, palying on a talented roster including Reggie Miller and Mark Jackson. From '01-'05, he was arguably a Top 5 frontcourt player averaging a double-double 3 times. He would go on to make 6 All Star Game appearances, garner 3 All NBA selections, and won the '02 Most Improved Player Award. Similar to McGrady, O'Neal's once promising career has been derailed by some devastating knee injuries and the nasty "Malice at the Palace" brawl.  After a decent bounce-back season in Miami last season, he takes his talents to Boston for next season.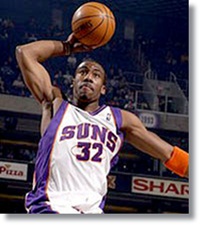 9) Amare Stoudemire ('02-Present)
Career Stats: 21.4 ppg, 8.9 rebs, 1.4 blk, .544 FG %
After not taking up organized basketball until age 14 and playing at 6 high schools over 4 years, Amare gained national attention as the MVP of the Nike Summer League in 2002. Despite committing to play college ball at Memphis, he decided to declare for the NBA Draft, and was chosen as the 9th overall pick by the Phoenix Suns. He has the distinction as the only HS player to be chosen in the 1st round that year. He beat out fellow rookies Yao Ming and Caron Butler to win the '03 Rookie of the Year before making 5 All Star Game appearances, 4 All NBA Teams, and winning a Bronze medal in the '04 Olympics. He has once again regained his All NBA form after suffering through severe knee and eye injuries over the past 2 seasons and remains as one of the most imposing and physical finishers in the game today. Check him out playing for the New York Knicks this season.
10) Darryl Dawkins ('75-'89)
Career Stats: 12 ppg, 6.1 rebs, 1.4 blk
Hoping to follow in Moses Malone's footsteps, Dawkins renounce his college eligibility and applied for the NBA Draft. The Sixers obliged by taking Dawkins with the 5th overall pick in the '75 Draft as not many players during that time had his combination of size, skill, and athleticism. Despite not ever making an All Star Team, Dawkins was undoubtedly one of the league's dominant big men over his career, known for his yearly battles with superstars Bill Walton of Portland and Kevin McHale and Robert Parish with Boston. Dawkins was probably most known for being one of the league's most flamboyant players and backboard shattering dunk artists. In fact his most famous shattering incident came in '79, when he destroyed the glass in a game against the KC Kings, where afterwards players were fined for breaking backboards. He would later go on to name all of his thunderous dunks like "Rim-Wrecker", the "Go-Rilla", and "Spine Chiller Supreme." It was at this time Dawkins began creating nicknames for himself  like "Sir Slam" and most famously the one that stuck, "Chocolate Thunder."
Honorable Mentions:
Stephen Jackson, Al Harrington, Andrew Bynum, Kendrick Perkins, Al Jefferson
Allen Moll has been a lifelong NBA and NCAA College Basketball fan who watches and studies games religiously, and coaches youth basketball in his native Lehigh Valley region of Pennsylvania.  Allen also provides content to Bleacherreport.com, Upperdeckblog.com, in addition to being a tenured NBA and NCAA columnist for TheHoopDoctors.com.