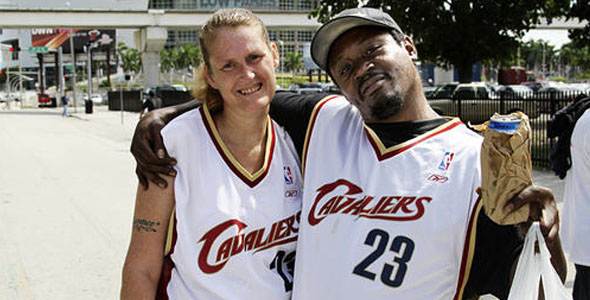 October 29, 2010 – Kevin Burke
LeBron and the Miami Heat will finally get a taste of some long awaited home cooking as they will play their home opener tonight against in-state instant rival, the Orlando Magic. After playing in hostile Boston Tuesday night during the most watched regular season NBA game in cable history, then heading to Philly for their first win of the season, I'm sure LeHeat is happy to be home. There will no doubt be white and red #6 James Heat jerseys outside American Airlines arena, but some may also see some wine and gold #23 James Cavaliers jerseys as well. Why? Because Cleveland didn't want them.
Scattered throughout Miami you will find the homeless donning LeBron Clevand Jersey's. During and immediately after "The Decision" we saw shots of a few people in Cleveland foolishly burning LeBron's jersey after he told the world he was leaving. Apparently that burning spree continued including a promotional night featuring a "LeBronfire" (I can't make this stuff up, people).
It went further then that actually. A Cleveland bar offered free beer to those who felt betrayed by LeBron. The trade off was that the bar would shred the newly value-less LeBron jerseys in front  of these people in exchange for booze. "We gave a lot of beer away that day", said bar owner Sam McNulty after they collected 102 jerseys that day.
 One guy, however, made an initiative to salvage these articles of clothing that was going to waste as a result of the excessive burning. Chris Jungjohann, founder of "Break Up With LeBron" collected more than 400 of these jerseys and other articles of clothing by way of a website and boxes he set up at restaurants. Right, kind of like a Thanksgiving canned-food drive. The thought was that maybe they could be used in Miami by the less fortunate.
At first, these jerseys were not welcomed in the Miami area because "the general consensus was that it was an attempt to mock the homeless population", said Ron Book, who serves as the Miami-Dade County Homeless Trust chairman. I knew LeBron was powerful, but wow. Who would've thought that his old jerseys would be viewed as a way to mock homeless people? That conclusion may be a bit over the top.
After Miami turned their backs on Cleveland's offer to send unwanted LeBron jerseys , Miami New Times, with the help of Cleveland Scene (two print publications), stepped in and offered to distribute the items.
Here is a direct quote from Miami New Timesof what type of LeBron merchandise there was to distribute:
Jungjohann gives us carte blanche to dig through the boxes, and the booty is incredible. There are jerseys of every variety: orange-and-white throwback jerseys, All-Star Game jerseys, and NBA Finals jerseys from 2007, when the Cavs came within four wins of a championship.

There are hundreds of T-shirts. …. There's a pink jersey with no adornment save LeBron's head floating phantasmagorically on the front.

One tee is simply a Wet-Seal brand women's V-neck with a message scrawled creepily in fabric marker: "Why did you leave? Cleveland is your home."

The most common item, though, is the simple wine-colored T-shirt modeled after LeBron's jersey. On many of them, the lettering has cracked after repeated washings. These were people's favorite shirts — the first ones they put on after doing the laundry. The boxes also hold upward of 50 children's jerseys, each tragically representing another kid doomed to worship Antawn Jamison.

And then, buried near the bottom of one box, there's "LeAfghan": a trippy wool blanket stitched with the portrait of LeBron standing next to another LeBron. With a nippy winter on its way to Miami's streets, this is the crown jewel of the collection.
So don't be surprised if you see a strong Cleveland-LeBron presence in Miami. But time heals all, so hopefully in a few years LeBron still won't have this much indirect power.
If you're looking for your everyday, predictable basketball talk, then go somewhere else, because Kevin Burke of The Kevin Burke Project brings provocative, thought provoking content about basketball as only he can. Kevin also hosts The Hoop Doctors weekly podcast show, which you can subscribe to for free on iTunes. Follow Kevin on Twitter and Facebook