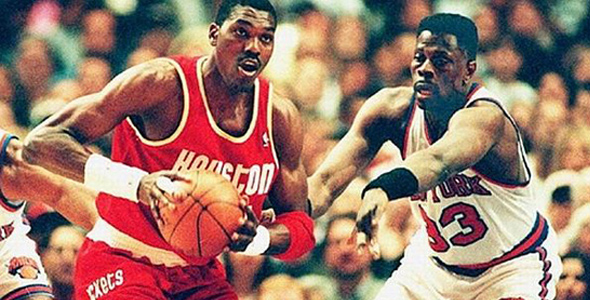 September 17, 2010 – Kevin Burke
It's no secret that the NBA goes through different eras.  All of which played a role in giving us the league in which we know and love today. We currently live in the the era of the scoring perimeter player. Kobe Bryant, LeBron James, Tracy McGrady, Carmelo Anthony, Dwyane Wade, Allen Iverson, Vince Carter. Those guys were largely the face of the NBA during the past decade and they all happen to play on the perimeter. Fast forward to this decade, you have Kevin Durant ready to join these ranks. It seems like a lifetime ago where this trend was reversed. About 15 years ago or so, aside from Michael Jordan of course, the face of the NBA was the dominant Center. But, they have become extinct apparently. What happened to them?
A 20 and 10 center from a decade and a half ago was the norm. It was commonplace. Now, it is rare at best. That was so long ago that we forget that offenses actually used to run through the Center. Now they run through the aforementioned perimeter players. The Knicks were built around Patrick Ewing. The Rockets were tailored to Hakeem Olajuwon's game. The Spurs meshed well with David Robinson's skillset. This was by design because these guys could actually carry a team. Today, the Center is almost a foregone conclusion.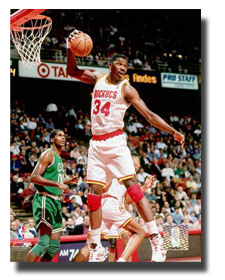 Let's take a look at the five best Centers of the last 20 years:
Patrick Ewing| Career stats: 21.0 ppg, 9.8 rpg | Best year*: 28.6ppg, 12.2rpg
Hakeem Olajuwon| Career stats: 21.8ppg, 11.1rpg | Best year*: 27.8ppg, 14.0rpg
Shaquille O'Neal| Career stats: 24.1ppg, 11.0rpg | Best year*: 29.7ppg, 13.9rpg
David Robinson| Career stats: 21.1ppg, 10.6rpg | Best year*: 29.8ppg, 13.0rpg
Alonzo Mourning |Career stats: 17.1ppg, 8.5rpg | Best year: 23.2ppg, 11.0rpg
These guys dominated the NBA when they played and these gaudy numbers above prove it. In fact, all of those guys have won an MVP with the exception of Patrick Ewing and Alonzo Mourning. These guys played mean. They played physical. They played with a certain aspect of toughness that largely defined the 1990s. In crunchtime situations, everyone in the building knew that these guy were getting the ball. They would post up on the block, demand the ball, and everyone else would simply just clear out and let them go to work. Those teams were built from the inside-out. The best players were the biggest players, and as the players on the team got smaller, that wasn't necessarily the case.
Today's league has done a 180 from yesteryear. The expectations of today's Centers are staggeringly low. Nobody in their wildest dreams is expecting any Center in the league today to average 25 and 10. Teams today will be more than satisfied with 10 and 8. It's amazing how things have changed. I spoke with Alonzo Mourning on behalf of The Hoop Docs a few months ago, and asked him why he thought this was the case with Centers today. He told me that too many of them would rather play on the perimiter and do things that they probably shouldn't be doing. He's absolutely right. Many would rather grab the rebound and start the break instead of looking for the outlet pass. Perhaps the big men of today became enamored with the admiration that the perimeter guys received, that they covet the same attention.
Last week, there was an alleged deal being discussed involving the Denver Nuggets and Chicago Bulls, with Carmelo Anthony being the centerpiece. The Bulls stated that Joakim Noah would not be involved in any deal. That is when I came to the frightening realization that Joakim Noah may very well be a top 10 Center in the league. The thought of that makes me cringe. That speaks to the quality of Centers in the league today. A solid player, but Noah would've been a throw-in in a trade 15 years ago. Today, he allegedly stands in the way of the Bulls acquiring a guy who is one of the best scorers in the league.
In my opinion, the five best Centers in the league today are: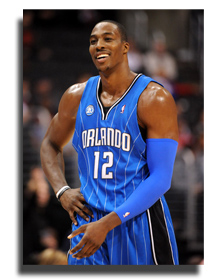 Dwight Howard | Career stats: 17.5ppg, 12.7rpg | Best year*: 20.7ppg, 14.2rpg
Yao Ming(when healthy) | Career stats: 19.7ppg, 9.3rpg | Best year*: 25.0ppg, 10.8rpg
Andrew Bynum |Career stats: 10.3ppg, 6.7rpg | Best year*: 15.0ppg, 10.2rpg
Andrew Bogut |Career stats: 12.7ppg, 9.0rpg | Best year*: 15.9ppg, 10.3rpg
Brook Lopez |Career stats: 15.9ppg, 8.4rpg | Best year*: 18.8ppg, 8.7rpg
The only guy on this list with a legit shot of winning an MVP at any point in his career is Dwight Howard. When you take a look at these five and compare them to previous five, the production is night and day. Nobody bats an eye at that because the game has changed. Dominant Centers are nice-to-haves. They are no longer mandatory. I guess it's just a sign of the times.
*Doesn't mean they accomplished both the same season. It represents their respective best year for each points and rebounds, regardless of the year.
If you're looking for your everyday, predictable basketball talk, then go somewhere else, because Kevin Burke of The Kevin Burke Project brings provocative, thought provoking content about basketball as only he can. Kevin also hosts The Hoop Doctors weekly podcast show, which you can subscribe to for free on iTunes. Follow Kevin on Twitter and Facebook