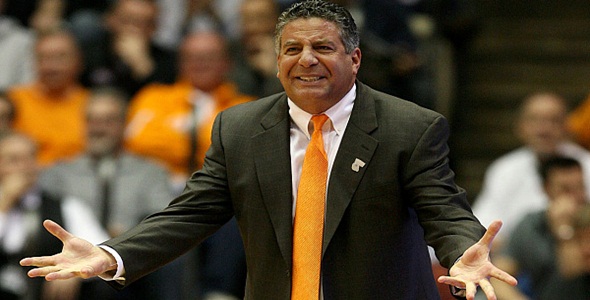 September 13, 2010 – Allen Moll
I don't know how they do it.  The Tennessee Volunteers basketball program continues to be a Top 25 program every season despite being the NCAA's version of a dysfunctional family. Over the past few seasons, the program has had to deal with suspensions, racially charged comments by the head coach, and felony drug arrests leading to the dismissal of team leader and leading scorer Tyler Smith just last season. Despite all of the turmoil surrounding the organization, on the court the Vols had one of their best seasons in school history, making it to last year's Elite Eight, losing by 1 point in the Midwest Region Finals to Michigan State.
All this is a testament to their head coach Bruce Pearl. Love him or hate him, the guy can flat out coach, and in my book he is a Top 10 coach in America. Sure, for an opposing team he can get under your skin with his pit bull-like demeanor, weaving a path back and forth in front of his team's bench and giving a constant earful of demonstative objections to referees, all while sporting an ugly orange blazer, tie, or suspenders. But when it comes to X's and O's and getting the most out of his players, very few coaches are better than Pearl. In fact, he is the 2nd fastest NCAA coach in NCAA history to reach 300 career victories behind only Roy Williams, and has a sparkling 125-46 record in only 5 seasons with the Vols. Pearl also has proven to be a master recruiter, constantly bringing in Top 50 recruits to the program like Wayne Chism, Scotty Hopson, and Tobias Harris for next season.
With that being said, Pearl's credibility has taken a hit recently when he revealed in a statement that he lied to investigators during the NCAA's seventeen month-long probe into the Tennessee football and hoops programs. He admitted to providing false information during interviews in June over allegations of excessive phone calls by the Vols coaching staff made to prospective recruits. Pearl notified university and NCAA personnel 3 weeks after providing the misleading information.
University Athletic Director Mike Hamilton moved quickly to punish Pearl in an attempt to stave off a more severe penalty from the NCAA, like a post-season ban or a loss of multiple scholarships going forward. Hamilton reduced Pearl's pay by an estimated $1.5 million over five years and has prohibited him from any off-campus recruiting for a full year. Three assistant coaches also took a 25% pay cut and cannot participate in off-campus recruiting anywhere from 3 months to a year.
While no one wants to lose that big of a chunk of their salary, the real hit comes with the ban on off-campus recruiting. Nabbing the next top tier recruit has become the life-blood of college basketball and in the dog-eat-dog world of recruiting, nothing shows a prized recruit that a program is interested quite like seeing a head coach sitting court-side at their HS games. Just ask John Calipari, who is hands down the best recruiter in the nation, and who on the regular has been seen making countless personal appearances to HS games, in an attempt to reel in the next big fish in the recruiting pool. The recent news didn't come at a good time as Adonis Thomas, the #2 rated SF in the 2011 Class, was in town for a visit.
At a news conference on Friday, a tearful Pearl expressed his apologies to his players and the university for providing false information in his typical tongue twisting style(via Yahoo Sports):
"I made some serious mistakes and for that I'm truly sorry," Pearl said, fighting back tears. "I provided incorrect and misleading information to the NCAA. … I learned some invaluable lessons. I learned it's not OK to tell the truth most of the time. It's OK to tell the truth all the time."
Going forward, it's tough to tell how this will affect the Volunteer hoops program in the future. As long as the NCAA doesn't uncover any more violations, Tennessee probably won't see any more punishments. As for Pearl, AD Hamilton has gone on the record that Pearl is, and will be the Vols coach, but has issued an edict that all the troubles within the program must end now. Hamilton also expects the NCAA to levy unethical conduct charges against Pearl and his staff for the wrong-doings.
As far as the program as a whole, Pearl undoubtedly has helped to put the once dormant Volunteers back on the college basketball map. He has helped make them an annual Top 25 powerhouse and SEC contenders, in part by their 5 straight NCAA Tournament appearances, including that magical run to the round of 8 last season, albeit with a makeshift line-up.
With reinforcements coming in the form of 5 star forward and McDonalds All American Tobias Harris and 4 star SG Jordan McRae for this season, the Vols should once again challenge for a SEC crown and will surely look to advance even further come March. But with Harris possibly projecting as a one-and-done player and current team leader Scotty Hopson heading into his junior campaign, it may be hard for Pearl and staff to continue to lure top recruits as their replacements for the '11-'12 season and beyond. Remember, once proud programs during the 80's and 90's, like UNLV and Michigan, still haven't fully recovered from recruiting scandals and coaching cover-ups. The Tennessee Vols had better focus on winning this season because hard times may be coming.
Allen Moll has been a lifelong NBA and NCAA College Basketball fan who watches and studies games religiously, and coaches youth basketball in his native Lehigh Valley region of Pennsylvania.  Allen also provides content to Bleacherreport.com, Upperdeckblog.com, in addition to being a tenured NBA and NCAA columnist for TheHoopDoctors.com.