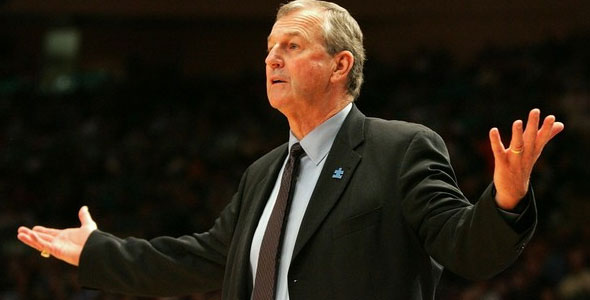 September 10, 2010 – Kevin Burke
In May of this year, the University of Connecticut men's basketball program was officially accused of eight NCAA infractions stemming from alleged telephone calls and text messages between coaches and recruits. Moreover, Head Coach Jim Calhoun was cited for failing to promote an "atmosphere of compliance."  It was the first time that the proud Big East program has been in this situation.
Earlier this week, UConn officially responded to these allegations. They certainly took their time in responding as they waited for the deadline that the NCAA gave them.  A spokesperson from the University stated that their response to the allegations amassed multiple binders. The nature of their response will not made public until the NCAA has a chance to review it. Judging by the fact that there were multiple three-ring binders worth of wording, it sounds like they were very meticulous in their response. They have every reason to be meticulous and careful because the NCAA can be very unforgiving. A hearing in front of the NCAA infractions committee is scheduled for October 15.
It's too early to tell what type of penalty, if any, UConn will endure. At this point, it's still important to acknowledge that these are still just allegations. However, at the same time, the fact that they have been targeted by the NCAA probably means that they feel confidently about their accusations.
It will be interesting to see how the school rebounds from this. If the NCAA comes down hard on them it could get ugly. Who knows if they'll have scholarships taken away or face a dreaded post-season ban. Naturally, the latter is debilitating to any program. I don't care how strong or storied a program is, a post-season ban (regardless of how long) takes a very long time to overcome.
If UConn doesn't face strict punishment it will still be interesting to see how the school responds. Will that deter guys from wanting to go to Storrs, Connecticut? On the court this coming season, it should be a tough go for them regardless. They lost key players who graduated, like Stanley Robinson and Jerome Dyson, and will now look to Kemba Walker to lead the way.  Even with Robinson and Dyson, UConn found itself in the NIT. However, they did play the toughest schedule in the country last year. Literally. Hopefully, they can get through this and remain being the national powerhouse that they are.
If you're looking for your everyday, predictable basketball talk, then go somewhere else, because Kevin Burke of The Kevin Burke Project brings provocative, thought provoking content about basketball as only he can. Kevin also hosts The Hoop Doctors weekly podcast show, which you can subscribe to for free on iTunes.