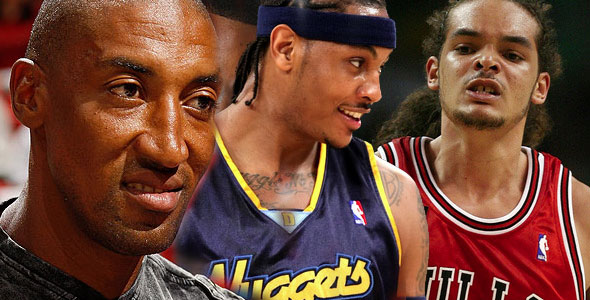 September 24, 2010 – Kevin Burke
For the majority of the summer, we've heard that Carmelo Anthony isn't happy in Denver and wants to be traded. At first, I didn't buy into the rumors, but as time went on, it has become evident that there is truth behind it. Carmelo's wish list includes the Knicks and the Bulls. It doesn't appear as if the Knicks have the personnel in place that would interest the Nuggets in a trade for Carmelo. So that would leave the Bulls. But, as far as Scottie Pippen is concerned, he's not interested in 'Melo.
In order for 'Melo to become a member of the Chicago Bulls, Joakim Noah would have to be offered up in return. The Bulls do not want to include Noah in a deal for Carmelo. I stated previously that if I were the Bulls, I would pull the trigger on that trade in a heartbeat because I think Carmelo's services would make them a better team. But, Scottie Pippen sees it the other way. Appearing on ESPN Radio in Chicago, Pippen was asked what he thought about Carmelo possibly coming to the Chi in exchange for Noah:
"I would definitely think about it very hard. But I don't know. If I'm a GM, I don't know that I could pull the trigger based on Carmelo's … sort of what he's doing now. Based on his reputation, I'd probably have to stay with Joakim because you know that this kid is going to come out and play night in and night out. There's no excuses. He's a great teammate. That's what you want.
I think there's been some problems there with him and the coaching and the organization. I think that could be a problem when you come to a team like the Bulls, an organization that is still trying to get off the ground and get themselves in a position that they are an established playoff team. You don't want to lose a guy like Noah and have a guy like Carmelo come here. Next year he may be wanting to get out of here and go play somewhere else.
I think it would be a huge gamble for the Bulls. It could set them back or it could push them up. I like Joakim, so for the personal reasons, I would probably keep him."
I have the utmost respect for Scottie Pippen, but I think he's overplaying how much of a problem Carmelo Anthony is. He makes him sound like he's Ron Artest from 2004. Aside from the sucker punch that connected on the side of Mardy Collins' face before retreating, Carmelo hasn't really been a malcontent for the Nuggets. I think Pippen's assessment is a little off.
He also acts as if Noah is a saint. He must not remember when Noah was benched by the very same Bulls team, by way of a unanimous decision by his teammates back in 2008. Two years ago, Noah was involved in a confrontation with assistant coach, Ron Adams during practice which resulted in this suspension. I don't remember Carmelo's teammates unanimously voting for him to be suspended.  If Scottie wants to say that Noah makes the Bulls a better team, then fine (even though I strongly disagree), but to bring up character issues in defense of Noah, that's where I'm lost.