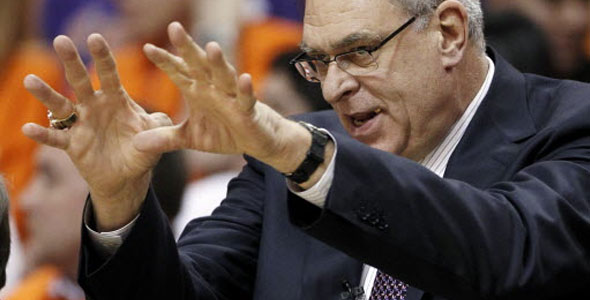 September 24, 2010 – Kevin Burke
Phil Jackson may very well be the luckiest coach in the history of sports. He was fortunate enough to inherit Michael Jordan and Scottie Pippen when he coached the Bulls en route to six NBA Championships in an eight year stretch. That good fortune continued when he relocated to Southern California to head up the Lakers. Shaq and Kobe were thee waiting for him and he won five more with the Lakers. Luck, or no luck, you can't argue with 11 NBA Championships in 20 years. In fact, by mid-June 2011, I think it will be 12 in 21 years. So obviously the man knows what he's doing. He also knows what he's doing in the some recent comments he made aimed at the new-look Miami Heat.
Appearing as a guest on ESPN 1000 in Chicago, Jackson was asked what he thought about what the Heat did this Summer:
"They got great talent. There's no question about the talent they have. But, talent doesn't always win. The team with the best teamwork will win. We think that [the Lakers] have established something. But, if [the Heat] can unite, and build quickly, the might be able to do it." He would go on to say "It's not always scorers and talent that wins it."
On the surface, that may seem like an innocent, honest assessment. But this is Phil Jackson. Phil is the king antagonist. He knows how to get under your skin with quick jabs. He never really goes for the knockout punch. Just body blows. That quote wasn't necessarily over the top, but it was very Phil. He could've easily deflected the question and said the politically correct thing, but that wouldn't be Phil. I especially love the part at the end where he suggests that if the Heat keep at it, they might amount to something eventually.
Going back to the Playoffs of 2010, Phil took very strategic shots at two pretty prominent players in the NBA. When the Lakers were ready to square off against the Oklahoma City Thunder in the first round, Phil made comments which insinuated that Kevin Durant primarily gets foul calls because of his name, not because an actual foul has been committed. That comment came somewhat unprompted and was strategic so that he could get under the skin of Durant. Even though the two teams played a close series, the Lakers ultimately won. I don't necessarily think that Durant would've played any better if Phil never made those comments, but who knows how much he thought about it before or even during the games.
Several weeks later, Phil was back at it by making comments suggesting that Steve Nash carries the ball when he dribbles. Naturally, Nash responded but largely just took it in stride. Phil had the same intent, which was to get under Nash's skin because these comments came right before the two teams squared off in their Playoff series.
Whenever his "victim" responds, I'm sure that Jackson just sits back and laughs. That's because he wants a response. He wants to know that they are thinking about what he said. He couldn't care less about what their actual response is because the damage is already done at that point.
I don't expect anyone from the Heat to respond because it's not like they're in the same division, or even the same conference for that matter.  Unless they meet in the Finals (which I see happening), they'll only play twice this year. But, you can rest assured that the Heat will be reminded of Phil's comments leading up to the game.
If you're looking for your everyday, predictable basketball talk, then go somewhere else, because Kevin Burke of The Kevin Burke Project brings provocative, thought provoking content about basketball as only he can. Kevin also hosts The Hoop Doctors weekly podcast show, which you can subscribe to for free on iTunes. Follow Kevin on Twitter and Facebook