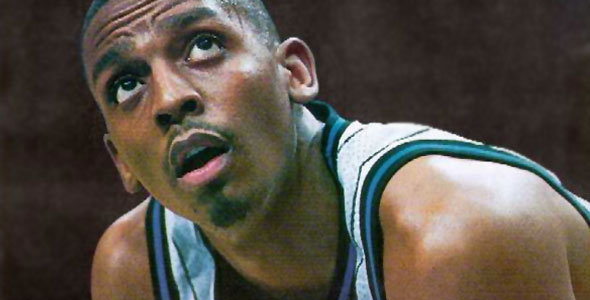 September 22, 2010 – Kevin Burke
For die hard basketball fans, most have one guy that they followed throughout their career and really believe that this guy is a special player. For the overwhelming majority, that person is Michael Jordan. But that's too easy. For me, that guy has always been Anfernee "Penny" Hardaway. I'll just throw it out there: If injuries did not claim his prime years and his physical attributes, I feel that Penny Hardaway could have been one of the greatest Point Guards to ever play in the NBA. Yeah, I said it. Before I get to comparing him to the other great Point Guards of All-Time and why I feel this way, let's first examine Penny himself because the stories of the other greats are well documented.
Coming somewhat unheralded out of Memphis State University (Now, the University of Memphis), Penny had plenty of detractors from day one. He was an extremely talented player in college, but many didn't know it because he elected to stay home and play for Memphis rather than going off to a bigger named school. He was a man amongst boys at Memphis and his domination in the college ranks was part of the reason why he decided to leave school early, after his junior year, and make that leap to the NBA.
Heading into the 1993 NBA Draft, the Orlando Magic had the first overall pick (for the second consecutive year, where they took Shaquille O'Neal out of Louisiana State University the previous season), the Philadelphia 76ers had the second  pick, and the Golden State Warriors were third. The most talked about player in the college ranks at the time was Michigan's Chris Webber, fresh off his timeout debacle in the National Championship Game against North Carolina just a few months prior (But Michigan's appearance in that game was later vacated due to NCAA violations, so forget I even said anything about that – because apparently that didn't happen). So naturally, Webber was taken number one by Orlando. The Magic seemed to have had their frontcourt set for the next decade with O'Neal, and now Webber. Shawn Bradley, out of BYU, was taken second and Penny was third.
Then, a move came that surprised many. Penny was dealt for Chris Webber on Draft night. Of course, that move was met with it's share of boos, but Orlando brass apparently knew what they were doing. All of this meant that Penny already started his pro career with two strikes against him because he was dealt for a very popular player. For a young guy, that's a tough way to start a career.
From the very beginning of his Rookie season, he started to impress people and eventually took over the starting Point Guard duties from Scott Skiles. He would go on to ultimately lose the Rookie of the Year to Chris Webber in a very close race, but be named to the All-Rookie first team.  Even the biggest Penny haters will tell you that he turned heads in his Rookie season. That disappointment that Orlando fans felt on Draft night in 1993 was erased after Penny's very impressive Rookie campaign.
That would continue to his second season where he was named to the All-NBA 1st team. In my opinion, that was when he became certified. He was able to earn that spot even with John Stockton still playing at a high level. Also in his sophomore campaign, Penny was the only player in the entire Association to average at least 20 points, while grabbing at least 5 boards and shooting at least 50% from the floor for the entire season. In fact, he was the only one to do so the following season as well. There's no award for that, but that's an interesting distinction if nothing else.
Penny soon became a perennial All-Star, then his own shoe and doll followed, an Olympic Gold Medal in 1996, and then the unwarranted Michael Jordan comparisons. I don't know who the first person was who compared Penny to MJ, but that person clearly wasn't paying attention. Although he was taller than Jordan, Penny was naturally a Point Guard. Period. You can't compare Penny and Mike. It's like comparing apples and grapefruits. One guy was born to be a Shooting Guard and one guy was born to be a Point Guard.
I thought Penny's respect around the league was personified by one act. One act that can be looked at as insignificant unless you're me. When Michael Jordan came back from his stint of shagging fly balls for the Birmingham Barons, he wore Penny's shoes for a stretch of that season. Jordans are the most powerful sneaker on the planet and Mike made the concerted effort to wear Penny's kicks.  I thought that spoke volumes and was the ultimate respect. Penny was riding high. Then, before you knew it, there was the dreaded microfracture knee surgery, a slew of other injuries, relocation to Phoenix, and just like that Penny was forgotten.
I could bore you into unconsciousness with all of Penny's NBA accomplishments. However, I won't because thanks to injuries, his accomplishments and hardware don't hold a candle to the great Point Guards of All-Time, so it would be pointless. In no particular order, just about everyone with an opinion rates the best Point Guards of All-Time as Magic Johnson, John Stockton, Isiah Thomas, Oscar Robertson, Mark Jackson, Jason Kidd, Steve Nash, Gary Payton and Bob Cousy. Sure, you could add a couple more (or maybe even remove some from that list), but those cover it for the most part. Again, I'm not saying that Penny was the greatest Point Guard ever. I'm simply saying if he enjoyed a long healthy career, he definitely would have been in the conversation.
The easy thing to do when arguing against this is to point to NBA Championships that the other great Point Guards have. Magic's five, or Isiah's two for example. Yes, Magic and Isiah and the others were great. No question about it. But simply pointing to someone's championships doesn't always make for a good argument. That can sometimes be a cop out because Jacque Vaughn has a championship with the Spurs but he's not on anyone's Top 100 Point Guard list. I'm just saying.
Having a good team helps and Penny played on solid, but young, Magic teams for a handful of years and even went to the Finals once. But when Shaq left Florida for Hollywood in 1996,that was the end of that. The Magic became a so-so team although Penny would continue to lead them to the Playoffs.
Being a floor general and having exceptional court vision is what being a Point Guard is all about. I say that Penny could've been one of the greatest because his court vision and awareness what just as good as anyone's. He was able to see things that the average Point Guard didn't. Penny would've been in the conversation because along with his great court awareness, he was very gifted offensively. He could've dropped 30 points any night he wanted to, but he didn't because his DNA states that he was a pass first point man.
It's safe to say that Magic Johnson is regarded as the best Point Guard ever by many. Penny's court vision was comparable to Magic's, but Penny was more gifted offensively. I know it sounds crazy to compare Penny to Magic when you look at their accomplishments, but again, that isn't what this is about. Nor is this a "Was Penny better than Magic?" discussion either. I only bring that up to help crystallize why he would've belonged in the discussion had it not been for injuries. Penny was 6'7" to Magic's 6'9", so each were the prototypical big Point Guard. You could draw similarities between the two.
I know that injuries are a part of the game and that everyone is susceptible, but it sure would've been nice to see what Penny Hardaway would've amounted to had it not been for them. Health was the one thing that escaped him. He hung around in the league for a while but was a shell of his former self. I feel confident that if he enjoyed a long healthy career, regardless of the number of rings, he would be mentioned with the All-Time great Point Guards and I wouldn't have to try to convince anyone. That wasn't the case, so this claim is necessary.
If you're looking for your everyday, predictable basketball talk, then go somewhere else, because Kevin Burke of The Kevin Burke Project brings provocative, thought provoking content about basketball as only he can. Kevin also hosts The Hoop Doctors weekly podcast show, which you can subscribe to for free on iTunes. Follow Kevin on Twitter and Facebook