September 7, 2010 – Allen Moll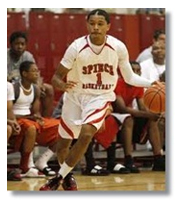 I wouldn't be the first to tell you that college basketball recruiting at the present time is way out of control. Every top coach in America is traveling cross-country in search of the next big thing to help bring their program back to national prominence(or keep it there). Seemingly only John Calipari at Kentucky, who annually pulls in 4-5 Top 20 ranked players to play for Big Blue each season, knows the secret to securing the big fish in the recruiting pool each season.
One way coaches are turning to get an advantage on the recruiting front is to dip younger into the talent pool. One such example is Tom Crean at Indiana University, who recently offered a full ride to talented in-state middle schooler, James Blackmon Jr. To Crean's delight, the 14 year old baller who played for the prestigious Spiece Indy Heat AAU squad this Summer, gave a solid verbal commitment to play for the Hoosiers, before ever playing a single game in high school. As the #1 rated shooting guard, and #5 overall prospect in the 2014 Class, here is ESPN's player evaluation:
"James is a smooth as silk combo guard. He has a sweet stroke with range to 20 feet. He will be coached in High School by his father and former Kentucky All American of the same name (James Blackmon, Sr.) so you know he has a solid basketball IQ. James Jr. has a solid handle and is a good and willing passer. He is a good scorer and knows how to set his opponent up for his dribble drives to the basket. Blackmon is an excellent prospect with great upside."
Blackmon Sr was a key contributor on the Kentucky Wildcats from '83-'87 before being drafted in the NBA. He currently is a successful HS coach at Fort Wayne's (Indiana) Bishop Luers High School and has had recent success in helping top tier recruits get to college like DeShaun Thomas, the 2010 Indiana Mr Basketball, who ironically also will be playing for the Hoosiers after the season. Just like Blackmon, Thomas also committed early in his freshman year to play at IU.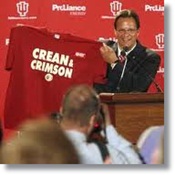 While I'm all for talented youngsters getting a chance to shine on the college hardwood, while at the same time getting the opportunity of a lifetime in a free college education, is reaching deep into the middle school ranks such a good idea? After all, isn't Jr High, and early on in HS for that matter, all about growing physically and mentally, while trying to figure out what to do in life?
On the other hand, while a verbal commitment isn't binding, it does take some pressure of off top tier players so they can concentrate on grades and becoming a solid basketball player. While on the surface that has proven to not always work out for the player, schools giving out those offers at such a young age have come up empty as well.
Take Taylor King, who reportedly was offered and committed to USC back in 2003, while still in the 8th grade. He eventually de-committed from the Trojans to play at Duke, only to transfer to Villanova, and now will finish up at a tiny NAIA school on the West Coast. In the summer of 2007, point guard Ryan Boatright committed to USC coach Tim Floyd fresh out of middle school. With Floyd now having resigned, Boatright is now searching for another school heading into his senior year of high school.
So, getting a commitment at such a young age doesn't always guarantee a promising career on the collegiate level. Let us know what you think, should college coaches be allowed to recruit players in middle school?
Check out James Blackmon Jr in action at the 2010 Fab Frosh All American Camp:
You can also check out Blackmon in action this past Summer with his Spiece Indy Heat teammates at the USSSA National Championships:
Allen Moll has been a lifelong NBA and NCAA College Basketball fan who watches and studies games religiously, and coaches youth basketball in his native Lehigh Valley region of Pennsylvania.  Allen also provides content to Bleacherreport.com, Upperdeckblog.com, in addition to being a tenured NBA and NCAA columnist for TheHoopDoctors.com.