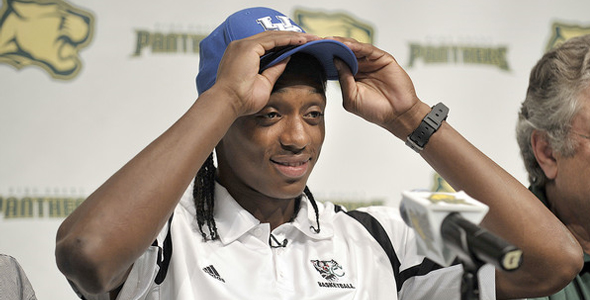 August 24, 2010 – Kevin Burke
Last year, Kentucky's John Wall was by far the most talked about player in the land. The hype surrounding him coming out of high school was unprecedented. It was LeBron James straight-out-of-high-school type of buzz. That buzz followed him all the way to the first overall pick in this year's NBA Draft by the Washington Wizards. Time will tell what type of pro he will become, but his hype alone has left some huge shoes to fill at Kentucky. Brandon Knight got off to a good start in filling that void.
Many people outside of the Bluegrass State may not even realize this, but the Kentucky Wildcats were just recently north of the border for three exhibition games; two against the University of Windsor and one against Western University. In his very first game as a Wildcat (if you even want to actually count these games), Brandon Knight dropped 31 points on 19 shots and had a grand total of zero turnovers in front of the sellout crowd of 2,500. In the second game, he had 17 points and 12 assists and in the third he had 25 points. All three games were on consecutive nights. Not too shabby.
That's an impressive week for anybody, let alone a freshman with big shoes to fill. However, I'm not sure what to make of this just yet. The teams that they played in Canada weren't nearly as talented as the type of competition they'll face when the season actually begins. The final score of the three games is irrelevant. Just know that they didn't exactly come down to the wire. Knight looked good. Very good. But it's way too early to tell what he will become. These games were a nice little glimpse, but that was all it was. This isn't to minimize what Knight did. It's not his fault he was up against inferior competition.
Naturally, the Wall vs. Knight comparisons are officially underway, so I may as well jump in too. As far as I can see so far (and there isn't much of a sample yet on this level to go on so far), Knight is a hair slower than Wall, but possesses a better shot. Brandon agrees with that assessment. I had the chance to speak with Brandon last month while out in LA for the Gatorade Athlete of the Year award presentation, which he won, and I asked him to compare his game against that of his predecessor. He said that he may be able to rely on his shot a bit more, but thought that they were each great playmakers. Above all, he's just trying to make a name for himself, he told me.
This was the first time Kentucky played a game in Canada and the first time in 15 years that they played exhibition games prior to the start of the season. The extra games will prove to be good for Knight in the long run as he is sure to endure a season of Wall comparisons. Either way, Kentucky fans have nothing to worry about when it comes to Knight.
If you're looking for your everyday, predictable basketball talk, then go somewhere else, because Kevin Burke of The Kevin Burke Project brings provocative, thought provoking content about basketball as only he can. Kevin also hosts The Hoop Doctors weekly podcast show, which you can subscribe to for free on iTunes.