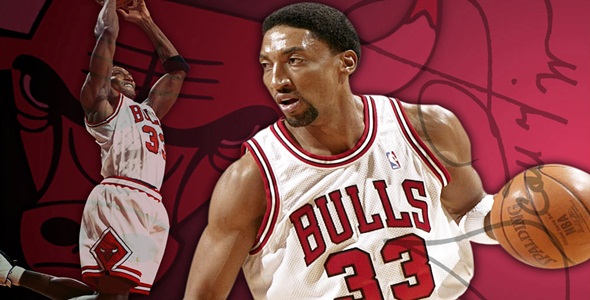 August 24, 2010 – Allen Moll
With the Naismith Basketball Hall of Fame recently inducting former Chicago Bulls great Scottie Pippen into their hallowed halls of greatness, what better time to give one of the NBA's Top 50 Players of All Time his very own multi-part, weekly Player Rewind Series. Scottie was the antithesis of the 5 tool player with supreme abilities to handle the rock, score when needed, or play lock-down defense on virtually any player on the floor. Although he will forever be labeled a "sidekick" to the great Michael Jordan in their magnificent run in winning 6 NBA Titles, Scottie was undoubtedly a great man on and off the court from his humble beginnings in Hamburg, Arkansas to Olympic Gold Medalist, and eventually as a standard of greatness that many players of today's game continue to strive for. Hopefully this series will serve to educate the youngsters about one of the greatest defensive players ever, while at the same time helping to reminisce on just how spectacular a player the man know as "Pip" really was.
Part Two – Early NBA Career('97-'00)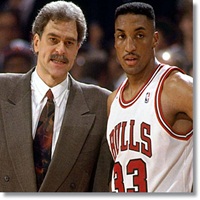 While many fans originally questioned the Chicago Bulls making the trade for Pippen after the '87 NBA Draft, it didn't take long for their sentiments to change as Scottie, along with another promising young prospect named Horace Grant eventually became the perfect compliments to Michael Jordan's all-worldly game. But considering Scottie made it to the NBA the hard way, via an NAIA school, he progressed slowly as he adjusted to the speed of the NBA game. Even though his offensive output increased in each of his first three seasons, they were marred by inconsistencies in his jump shot and a battle with migraines that kept him sidelined during the latter stages of the post-season. Playing alongside MJ, the NBA's most fearless competitor, Pippen first earned league-wide respect as an elite level defender, as he displaced Brad Sellers as the starting SF by the end of the '88 season. By the turn of the century(2000), Scottie had begun to open some eyes around the league by proving to not only be a supporting player, but as a burgeoning superstar in his own right, by finishing in the Top 3 in steals and earning his first of 7 NBA All Star Selections in the '99-'00 season.
Check out former Bull Charles Oakley showing incoming rookie Scottie Pippen who's boss in early '87:
Here is some footage of Scottie's first career start vs the Cavs in the '88 Playoffs. He made the most of the opportunity by scoring 24 points, grabbing 6 rebounds, and dishing out 5 assists as he helped the Bulls close out the Mark Price led Cavaliers.
Check out a great recap of the '90 Eastern Conference Finals won by the Detroit Pistons, where Scottie Pippen now famously sat out part of the decisive Game 7 because of migraines(or was it Rodman and Laimbeer's defense?). Many fans still speculate that if Scottie would have played, maybe the Bulls would have went on to play in the Finals.
Allen Moll has been a lifelong NBA and NCAA College Basketball fan who watches and studies games religiously, and coaches youth basketball in his native Lehigh Valley region of Pennsylvania.  Allen also provides content to Bleacherreport.com, Upperdeckblog.com, in addition to being a tenured NBA and NCAA columnist for TheHoopDoctors.com.