July 21, 2010 – Allen Moll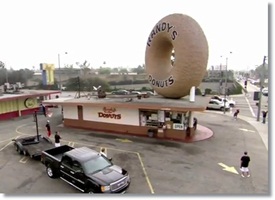 The man, the myth, the legend, and world renowned trick shot artist Dude Perfect, is back at it again and using his amazingly creative skills to once again entertain the masses with his unique talents in creating some sweet new trick shot videos. Over the past few years, TheHoopDoctors.com has been a big fan of Mr. Perfect as we have regularly featured his videos whenever they hit the web. We first brought "Dude" to your attention with his break-out Summer Camp Edition video in 2009, and his subsequent compilation videos done with Kings rookie Tyreke Evans last Winter as part of a promotion to help get "Reke" some added votes in the NBA ROY race were also well recieved.
Even though some relative newcomers have recently tried to stake claim to the title of World's Greatest Trick Shot Artist by putting out their own videos like David Kalb's Insane Tick Shots, who originally was known for once beating Lebron James in a game of HORSE, and Georgia player Connor Nolte's feature with Charles Barkley, in my book the "Dude" still ranks #1.
Check out his most recent additions to his already deep library of trick shot mastery videos which were produced in conjunction with a promotion with Chevy Trucks. They have to be good with catchy titles like the Airplane Shot, Donut Shot, and the World's Highest Trick Shot:
Airplane Shot
Donut Shot
World's Highest Trick Shot
Allen Moll has been a lifelong NBA and NCAA College Basketball fan who watches and studies games religiously, and coaches youth basketball in his native Lehigh Valley region of Pennsylvania.  Allen also provides content to Bleacherreport.com, Upperdeckblog.com, in addition to being a tenured NBA and NCAA columnist for TheHoopDoctors.com.