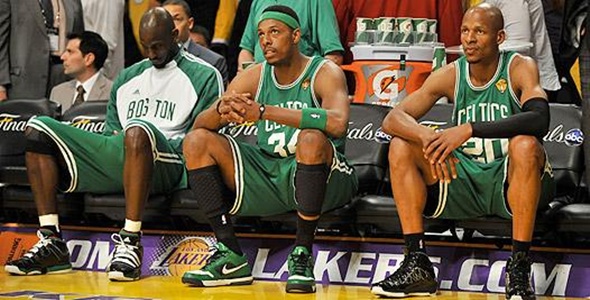 June 21, 2010 – Allen Moll
Almost immediately after the Boston Celtics improbable run towards a 2nd world title in 3 seasons was stopped short in Game 7 by Kobe Bryant and the LA Lakers, questions turned to the topic most Celtics fans didn't want to hear: Was this the final run for the Celtics as currently constructed? With a number of players like Ray Allen, Nate Robinson, and even Paul Pierce eligible for free agency, and with questions surrounding the possible retirement of Rasheed Wallace and stepping down of coach Doc Rivers, the Celtics as an organization have more questions than answers this off-season.
The organization's first hurdle may be to attempt to try and convince head coach Doc Rivers not to step away from the realm of coaching and return to Boston for another couple of seasons. After all, not many coaches possess the combination of patience, grit, and play-calling to not only keep this motley crue of players in line, but to have them in contention to win every season. It has been rumored all year that Doc would consider stepping away from the sideline primarily to enjoy watching his son, the highly touted Austin Rivers play during his senior season in high school. Austin is a consensus Top 5 ball-player in the 2011 class and is currently leaning towards playing collegiately at the University of Florida. Also, his oldest son Jeremiah is a senior at Indiana University, his youngest Spencer, is a freshman hoop star in Florida alongside Austin, while his daughter Callie is a senior volleyball star at Florida as well. Rivers has made no decision immediately after Game 7, but is supposedly leaning towards taking a hiatus from the bench. Throw in the fact that assistant coach Tom Thibodeau is the new head man in Chicago, and next year's Celtics could be lacking leadership from the bench.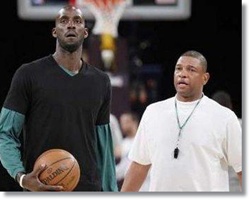 All three members of the aptly named "Big 3" consisting of Kevin Garnett, Ray Allen, and Paul Pierce face questions about their future as well. Ray Allen's monster contract is finally up as he is more than likely to test the free agent waters this Summer in search of his last big contract rather than return at what Boston can afford: a $5 million league minimum offer. Although Allen is still one of the game's best perimeter shooters, he has undoubtedly lost a step, and I question what the market will bear for a 35 year old jump-shooter with a history of injuries.
Even their unquestioned emotional and vocal leader, Kevin Garnett may be contemplating retirement. With not much left in his shaky knees, the "KG" of old is now just plain old. Even though he isn't ancient in terms of the calendar, the hanging and banging of 15 seasons and playing in more than 1100 games as a professional has taken a toll on the once and forever "Big Ticket." During back-to-back games during the season, Garnett was noticeably less agile and appeared to have wooden knees at times. Even during the Playoffs, he has been reduced to a very good role player who succeeds with fundamentals rather than the usual sheer athleticism. During the regular season Garnett's averages dipped to 14.8 ppg and 7.3 rebounds, which are the lowest since his rookie year in '95-'96. KG is now relegated to nothing more than an above average defender who is now just a piece to the puzzle rather than a focal point.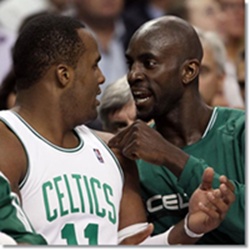 Amazingly if the captain, Paul Pierce, doesn't like the direction that the organization is heading, he also can decide to opt out of the last year of his contract and join this Summer's free agent frenzy. Even though the Celtics owe him more than $21 million next season, Paul may decide to opt out rather than stick around for year 1 of a rebuilding project. At age 32, he also may decide to chase down what could be his final free agent payoff now, rather than wait another year and risk an injury. Pierce would probably still be in high demand this Summer after another NBA Finals run, but that might not be the case in 2011. Pierce has earned respect around the league for being an outstanding 2 way player and for supposedly saving his best games offensively against some of the game's biggest stars, like his career high 50 point effort against Lebron James in '06. Since he arguably one of the franchise's all-time greats, surely the fans in New England want to see "The Truth" in Celtic green for life.
The aging Rasheed Wallace struggled through one of the worst regular seasons in his career, and even though he resurrected his basketball life during the Playoffs, he also is considering retirement. The 6'11 enigmatic power forward has been playing through an aching back and some very sore knees for the past two seasons and has hinted at moving on to his 2nd career in the very near future. Don't laugh, but "Sheed" has made it clear in post-game interviews that he wants to be a head coach someday, possibly as soon as next season. While that's a hilarious and ironic thought, Rasheed is dead serious, but wants to go no higher than the high school level. In his own words, he likes the high school level since older players are "a**holes!" Isn't that the perfect case of, the kettle calling the pot, or the pot calling the kettle black or something? Anyways, if he returns for the remaining 2 years on his deal, he more than likely is now reduced to a trash-talking role player off the bench.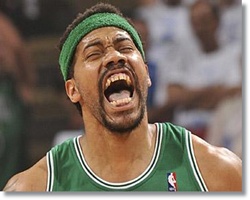 In addition, virtually the entire Celtics bench will become free agents on July 1st. Nate Robinson and Tony Allen could get some decent offers as a 6th man or defensive stopper after their resurgence this post-season, while Marquis Daniels and fan favorite Brian Scalabrine also will be free. GM Danny Ainge has even been reportedly wooed by the Phoenix Suns organization now that Steve Kerr has stepped down as GM. Remember Danny was once a head coach for the Phoenix after retiring as a Suns player,  and still has friends in high places. Could he be tempted to flee to Arizona? It's no secret that Ainge is not a big fan of Rajon Rondo, and Paul Pierce is the last remaining player that he brought in to the organization as a rookie GM.
Let's be clear, this is Rondo's team now, and the organization made that clear by locking up their unquestioned floor general last Summer. Even though fans may want their favorite players to remain Celtics, just remember that while no one player is irreplaceable, all who leave must be replaced.
Allen Moll has been a lifelong NBA and NCAA College Basketball fan who watches and studies games religiously, and coaches youth basketball in his native Lehigh Valley region of Pennsylvania. Allen also provides content to Bleacherreport.com, Upperdeckblog.com, in addition to being a tenured columnist for TheHoopDoctors.com.