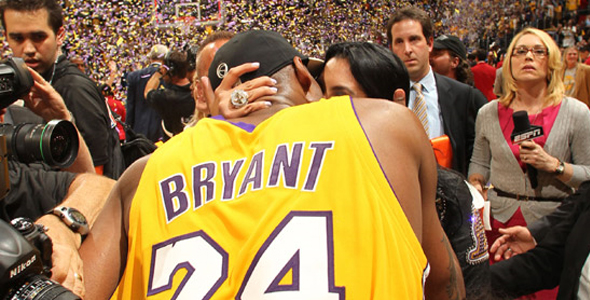 June 18, 2010 – R.S. De France
With Kobe Bryant still playing at an elite level on the NBA Champion Los Angeles Lakers, taking the time to consider his overall legacy is a bit preemptive.  Yet, as a 13 year pro, Bryant has more NBA miles behind him than in front of him, so let's take a look at the unfinished legacy of Kobe Bryant.
Thursday night, the Lakers defeated the Celtics 83-79 in game 7 to win the Lakers' 16th NBA championship in franchise history.  They made a late comeback to complete the comeback from a 2-3 series deficit.  The 2010 title is redemption for their loss to the Boston Celtics in 2008.  Also, this cements Bryant's career with repeat championships in '09 and '10 to accompany his earlier accomplishment of a three-peat from '00-'02.  Bryant has had the unique experience of winning both at the near dusk and near dawn of his career, winning three titles in his 4th, 5th, and 6th seasons and two more titles in his 12th and 13th seasons.
Everyone, maybe even Bryant himself, sees the writing on the wall.  Although their window is not closing nearly as fast as the Celtics' window, the Lakers' window will not be open forever.  In fact, it's hard to imagine this dynasty, if we can start to call them that (with 3 straight finals appearances), will continue past another couple of seasons.
The Lakers will make as many runs (for a title) as Bryant can lead them to, but at 31 (32 in August), Bryant probably only has a few peak years remaining.  Over the summer, Derek Fisher will turn 36.
If we're considering the career of Kobe Bryant, there are just so many implications of Bryant winning the 2010 NBA title.
My Generation
With 5 titles and an aging Tim Duncan and Shaquille O'Neal (the only current players with 4 titles), Bryant may have just secured his spot as the greatest winner of his generation.  Surely, during the season and postseason, Bryant was quietly satisfied with finally collecting more rings than former teammate O'Neal.  But, he was more candid after the win.  When asked what the win meant, Bryant responded, "got one more than Shaq…you know how I am" (ABC Sports Zone).  That type of vindictiveness is also something that drove his predecessor Michael Jordan, as was evident in his Hall of Fame speech.  With this title, Bryant has easily secured his stature as the greatest shooting guard of his generation.  Other great shooting guards of his generation include:  Paul Pierce, Tracy McGrady, Vince Carter, Allen Iverson, Ray Allen Dwayne Wade, Kevin Durant, Joe Johnson, and Brandon Roy (in no particular order), among others.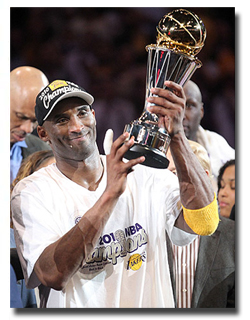 Kobe's Legacy with the Lakers
After finally defeating the Celtics, Bryant is now 1-1 in the NBA Finals v. the Lakers most hated rival, the Boston Celtics.  This is a lot better than the 0-2 whole that seemed imminent after the Celtics took a 3-2 lead in the series.  Coming back from a 2-3 deficit in the series, the Lakers are the first team to do that in the Finals since the Lakers did in against the Detroit Pistons in 1988.  Bryant has redeemed himself and the Lakers' organization for their loss to these Celtics in the 2008 Finals.  This, also, takes Kobe out of the Jerry West (who never beat the green team) conversation and into the Magic Johnson (2-1 v. Celtics) conversation.
Now with 5 NBA titles, Bryant is tied, in terms of championships, with Hall of Fame (HOF) Lakers' point guard Magic Johnson.  Although Johnson was never a great scorer, he retired as the all-time league leader in assists (a record later broken by "Dream Team" teammate and fellow HOF point guard John Stockton).  In the 2009-2010 season, Bryant surpassed Jerry West as the team's all-time leading scorer.  Currently, Bryant stands as the 12th all-time scoring leader in NBA history with the top-ten easily within his grasp next season in 2011.  He is now also the Lakers' all-time leader in playoff points scored.
Still, even with all the numbers and the rings, there is almost no way that Bryant can exceed the legacy of Magic Johnson.  Johnson has something Kobe never has—an open, happy spirit.  Bryant has always been more reserved and reflective.  These two legends of the game could not be more different in terms of personality.  Although both will be remembered as greats of the game, Bryant will never be as loved nor respected as Magic Johnson.  Not only does Magic have the personality to dominate the cameras and to inspire teammates, one thing many fans remember was Magic Johnson, the player, and his huge smile.  Further, we cannot overlook the positive impact Magic Johnson has had on the African American community and the Los Angeles community at large.  And finally, no one should ever forget that Magic Johnson is a hero.  He is the only player in NBA history to be forced into retirement in 1991 due to what, at the time, was a little known, but nearly fatal disease, known as HIV.  Then, in 1996, Johnson returned to the Lakers and became the only player to come out of retirement to play in the NBA while suffering from HIV.  For all these reasons and more (like "Showtime"), Bryant has yet to surpass Magic Johnson as the greatest Laker ever.  If Bryant were to exceed Magic's 5 championships, measuring the greatest Lakers' player ever may become even more complicated.
All-time Greats Conversation
Throughout his career, Bryant has been compared to the other greatest shooting guard in NBA history, Michael Jordan, so why stop now?
Bryant's career turned out much differently than Michael Jordan's. Surely, they are comparable because they played the same position, were coached by Phil Jackson, played in the triangle offense (mostly), have a headstrong demeanor, and have been incredible scorers.
One could even make the argument that both great players may have left some championships on the table.  MJ retired for two finals in the mid-90's.  Who is to say that the Bulls would not have beaten the Rockets?  MJ, Pippen, and Jackson might have won eight consecutive championships had Jordan not retired in the middle of 2 three-peats.  Likewise, if Bryant and O'Neal could have tolerated each other for several more years, who knows what they could have done.  If he had done his best Wade—circa the 2006 NBA Finals—impression for a few seasons, Bryant and a less-productive Shaq (who began slipping in '04) maybe could have squeezed out a few more rings.
But, here is where they really differ.  It goes back to something Bryant has said in reflection of his years with O'Neal.  To paraphrase, Bryant thought it was pretty amazing and unique that two "alpha dogs" were able to coexist.  When Bryant had to coexist with O'Neal, Kobe had to temper his game, modify his game because the offense revolved around O'Neal.  Unlike Jordan or LeBron James, Bryant did not enter the league on a team that demanded him to be "the man" and lead the team in scoring.  In fact, Bryant did not even average over 10 ppg in his rookie campaign.
Having to coexist with another alpha dog, though, made Bryant's career much different from Jordan's.  Bryant may be one of the only players in NBA history to have done what he's done.
Bryant may be the first in NBA history to evolve from the #2 option to the #1 option, having won multiple championships in both roles.
Further, Bryant's career is unique in that the Lakers, including Bryant, Fisher, Jackson and management, were able to win a three-peat at the beginning of a decade (and a century), fall out of the playoffs, and then rise from their own ashes to pull off a repeat as NBA champions at the end of the same decade.
Is he better than Jordan?  No matter what argument you make, he would need to win another championship to equal Jordan's 6, preferably next season to complete a second three-peat just like MJ, before we should really start that conversation.
So, while, yes, Bryant is clearly the best player of his generation, and he is one of the greatest Lakers of all-time, Bryant has not yet exceeded the legacy of Michael Jordan.  Bryant does not need to, either.  We should just appreciate him for what he is:  one of the greatest players to have ever played and also one of—and arguably the best—shooting guard in NBA history.
R.S. De France is a College and University instructor of English Composition. He has a B.A. in English and an M.A. in Rhetoric, Composition, and Writing. One of his life-long pursuits has been writing and covering anything related to sports, specifically the NBA. Recently, De France, his wife, and another colleague started an internationally read magazine at Shwibly.com.