June 29, 2010 – Allen Moll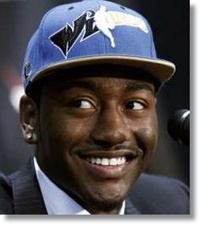 If you haven't heard of this guy named John Wall, you must have been living under a rock somewhere. He was only the most exciting player to come out of the college ranks in recent memory and is poised as this year's #1 overall draft pick, to not only breathe life into the once proud Bullets/Wizards franchise but invigorate the NBA as a whole . And oh by the way, he unknowingly started a ridiculously sickening yet addictive new dance craze, aptly named the "John Wall Dance" before even playing a single meaningful minute of basketball at the University of Kentucky. Just in case you missed it, check out the newest all inclusive John Wall Dance compilation video, which shows just how many people he has already influenced.
Not that there is any pressure on the new 19 year old face of the franchise as everyone is already referencing Wall as a "game-changer" and "sent from heaven" as virtually everyone around the nation's capital is being infected by John Wall mania. No doubt as part of trying to sell more season tickets, Wall has already replaced the somewhat disgraced Gilbert Arenas as franchise poster boy, and is already featured prominently on billboards, sidewalks, and posters all around the D.C. area.  There's no word yet as to whether Wall and "Agent 0" will be able to coexist, or if a trade of Arenas is emminent, since both players are only effective with their hands on the ball.  Reports of Gilbert nervously "freaking out" by texting the rest of the current Wizards roster nearly 24 hours per day to keep tabs on Wall have already begun to surface.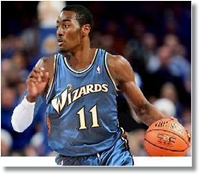 On Friday, the Wizards faithful rolled out the red carpet, literally, for Wall's initial appearance in Washington. In an event which featured a stretch Lincoln Navigator limo, a funny, humbling, and informative first interview, and drones of screaming Wall-A-Maniacs decked out in John Wall shirts, just waiting to capture a pic or grab an autograph from the NBA's newest rock star.  The day came to a close as the D.C. mayor proudly declared that June 25th, 1010 will always and forever be John Wall Day.
But the most entertaining part of the evening has to be the hilarious welcome video pre-recorded and played live for all in attendance at the event. Many of the nation's capital's most well known athletes, politicians, and famous fans alike came together to make a video where everyone attempts to do that silly dance that Wall made famous during UK's player introductions last October. While it seems almost appropriate to see some uncoordinated big timers like Wizards executive Ernie Grunfeld, Nationals sluggers Adam Dunn and Ryan Zimmerman, and the Capitals' Alex Ovechkin struggling to do the move, it seems odd to see newly acquired Redskin Donovan McNabb and even President Obama attempting to do the John Wall Dance, set to to the song "Ice Cream Paint Job."
Allen Moll has been a lifelong NBA and NCAA College Basketball fan who watches and studies games religiously, and coaches youth basketball in his native Lehigh Valley region of Pennsylvania. Allen also provides content to Bleacherreport.com, Upperdeckblog.com, in addition to being a tenured columnist for TheHoopDoctors.com.